Peakeen Ridge Loop Walk | Sheep's Head Way
The Peakeen Ridge Loop Walk begins above Kilcrohane on West Cork's Sheep's Head peninsula
It's a gorgeous walk out along the ridge of the Sheep's Head. At every time of year, you'll find something to delight the eye as you look across bays, moorland and lush green valleys. The walk is a perfect introduction to Ireland's Wild Atlantic Way walks!
Look out for a passage tomb and a Mass Rock along your route. Why not call down to the village of Kilcrohane after your walk for dinner at The Old Creamery, or a visit to the Sheep's Head Producer's Shop?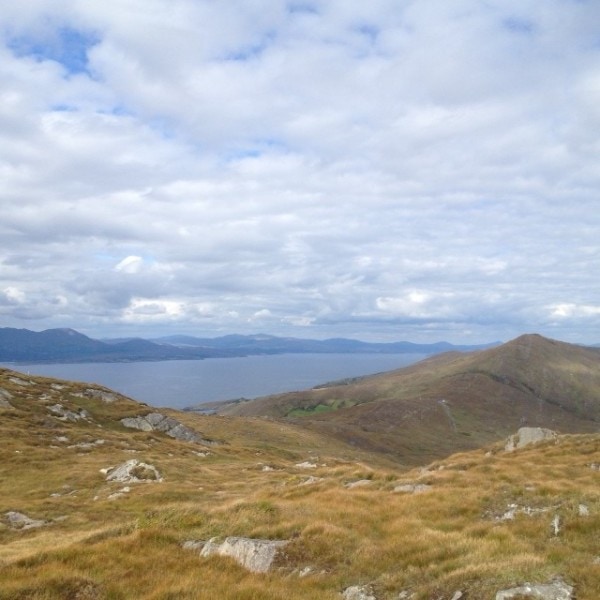 Peeakeen Ridge Loop Walk Details
Begin your walk behind the Pietà statue, and follow a route that leads you along the ridge of the Sheep's Head peninsula, with spectacular views out over Dunmmanus Bay, the Mizen peninsula, and the Fastnet Rock to the east. To the west, you'll see Bantry Bay, Beara, Bere Island, and even the Bull Rock on a clear day.
From the car park at the top of the Goat's Path, follow the orange arrows and orange 'walking man' way markers heading in a southwesterly direction, passing behind the Pietà statue and marker no. 60 (Peakeen) as you go.
Continue on along the ridge passing a megalithic tomb en route. Further on you will descend the hill and almost straight away you will ascend another hill. Continue on along the ridge again until you will start to descend again at way marker no. 15 (Peakeen, Caher) veer right following the way markers for Cahergal.
As you go over the stile at the public road at Cahergal car park, keep right at way marker no. 205 and continue along the public road in a northeasterly direction. At the finger post sign for "Horse-shoe Road" and Finn McCool's Seat near way marker 200.
Turn right here, and this track will take you back to the public road to way marker no. 194. Turn right here and the road takes you back to the car park at the top of The Goat's Path.


Download GPX File for GPS:
Download Peakeen Ridge Loop Walk GPX file
Download File for 3D View on Google Earth:
Download Peakeen Ridge Loop Walk KMZ file
Start/Finish:
Goat's Path trailhead.
Grade:
Hard
Distance:
11 km (approx)
Estimated Time:
3 hrs 45 mins (based on average walking speed of 3 km per hour)
Arrows:
Cream and red arrows
Metres Climbed/ Ascent:
470 metres
Maximum Height:
338 metres
Dogs Allowed?
No
Minimum Gear:
Walking boots, rain gear, fluid, and a mobile phone.
Facilities:
Car Parking spaces available and bike rack.
Nearest village: Kilcrohane