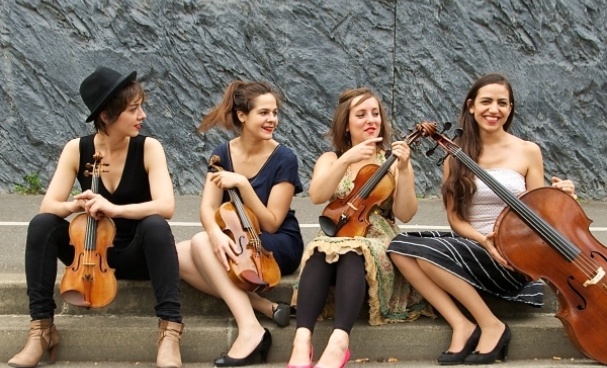 Discover what's on in Bantry and around the Sheep's Head peninsula with our up-to-date events calendar!
Search the event calendar below for some great West Cork events. Check out our many festivals, great live music, courses, guided walks and more. Our events guide covers all the guided walks, festivals, craft courses, sailing trips, foodie events and gigs in Bantry and on the Sheep's Head.It's the perfect place to find out what's on in
Bantry
this weekend or start planning your trip to the Sheep's Head for one of next year's great festivals. Don't forget, you can contact us at
[email protected]
if you'd like more information on what's on along the Sheep's Head Way over the next few days or in the months ahead!
Jun
28
Fri
2019
West Cork Chamber Music Festival 2019
The West Cork Chamber Music Festival is the highlight of the summer for many music lovers who make the annual pilgrimage to Bantry.
Over the course of this festival, almost one hundred international musicians perform thirty-six concerts in beautiful Bantry House and St. Brendan's Church, Wolfe Tone Square, Bantry.
2019 marks the 24th anniversary of the acclaimed festival.
This is the festival where the music lover can hear the finest works in the repertoire as well as world premieres of some exciting new music. Each year audience members from throughout Europe, the United States and the Middle East arrive in this small fishing town in a remote corner of West Cork.
The West Cork Chamber Music Festival is not just a week of extraordinary concerts in a fabulous setting.  It is also a summer meeting-point for top young ensembles, where advanced students have the opportunity to immerse themselves without distraction in the world of chamber music.
Morning talks, a violin making exhibition, young musician master classes, and a handful of free events run throughout the week.
It is important to pre-book your tickets, as the festival is known to sell out! Tickets for the West Cork Chamber Music Festival can be booked on the festival website or by calling the West Cork Music office.
Jul
12
Fri
2019
West Cork Literary Festival 2019
The West Cork Literary Festival presents an extensive programme of readings, workshops, seminars, panel discussions and children's events. A literary festival for everyone!
At the heart of the West Cork Literary Festival's extensive programme is the schedule of five and three day workshops in Coláiste Pobail Bheanntrai. These workshops cover such subjects as the novel, travel writing, script writing, poetry, creative writing for beginners, writing for children and much more.
West Cork Literary Festival Events
The main evening events are held in the Maritime Hotel and in recent years have featured Mary Robinson, Ahdaf Soueif, Lord Melvyn Bragg, Sir Michael Parkinson, Michael Palin, Nuruddin Farah, Michael Morpurgo, Michael Holroyd, Annie Proulx, Margaret Drabble, Fay Weldon and many more.
There are free readings in Bantry Library and Bantry Bookshop, afternoon seminars, book launches, panel discussions, coffee and chat events and an opportunity for Munster novelists to enter the JG Farrell Award.
Another great highlight for aspiring writers is the opportunity to schedule a session with West Cork Literary Festival's Editor in Residence who will go over, discuss, and appraise your work. A unique opportunity!
Bookings
Pick and choose the events and workshops you'd like to attend using the festival's website simple booking system: http://www.westcorkmusic.ie/literaryfestival/workshops
Aug
21
Wed
2019
Masters of Tradition: A Traditional Music Festival

Masters of Tradition is a five-day traditional music festival held each August in the West Cork town of Bantry
Masters of Tradition Festival features a series of performances, covering the full spectrum of Irish traditional music. The performances take place in Bantry House, one of Ireland's most exquisite historic mansions, and in one of Bantry's other special venues, St Brendan's Church.
The event provides a platform where subtle and sometimes obscure elements of Irish traditional music can be heard. By seeking the heart of the music we find a universal voice that has widespread appeal reaching across many cultural and musical barriers.
The festival is headlined by its Artistic Director, Martin Hayes, the fiddler from East Clare, whose distinctive touch and extravagant virtuosity has brought the tradition to new levels. His famous trance-evoking sets with Dennis Cahill have mesmerised audiences all over the world and will do again this summer!
Check out the full programme at http://westcorkmusic.ie/mastersoftradition/programme
Plan your visit! Click the link for great places to stay and eat http://livingthesheepsheadway.com