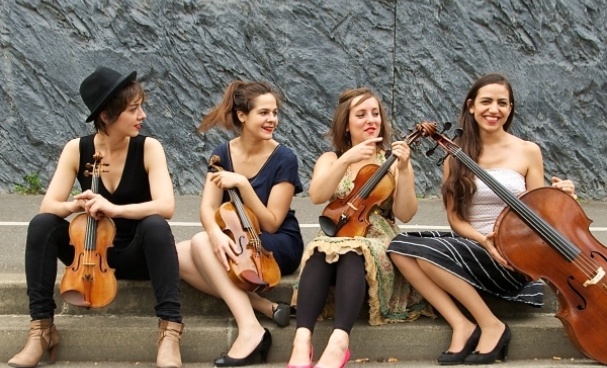 Discover what's on in Bantry and around the Sheep's Head peninsula with our up-to-date events calendar!
Search the event calendar below for some great West Cork events. Check out our many festivals, great live music, courses, guided walks and more. Our events guide covers all the guided walks, festivals, craft courses, sailing trips, foodie events and gigs in Bantry and on the Sheep's Head.It's the perfect place to find out what's on in
Bantry
this weekend or start planning your trip to the Sheep's Head for one of next year's great festivals. Don't forget, you can contact us at
[email protected]
if you'd like more information on what's on along the Sheep's Head Way over the next few days or in the months ahead!
Jun
28
Fri
2019
West Cork Chamber Music Festival 2019
The West Cork Chamber Music Festival is the highlight of the summer for many music lovers who make the annual pilgrimage to Bantry.
Over the course of this festival, almost one hundred international musicians perform thirty-six concerts in beautiful Bantry House and St. Brendan's Church, Wolfe Tone Square, Bantry.
2019 marks the 24th anniversary of the acclaimed festival.
This is the festival where the music lover can hear the finest works in the repertoire as well as world premieres of some exciting new music. Each year audience members from throughout Europe, the United States and the Middle East arrive in this small fishing town in a remote corner of West Cork.
The West Cork Chamber Music Festival is not just a week of extraordinary concerts in a fabulous setting.  It is also a summer meeting-point for top young ensembles, where advanced students have the opportunity to immerse themselves without distraction in the world of chamber music.
Morning talks, a violin making exhibition, young musician master classes, and a handful of free events run throughout the week.
It is important to pre-book your tickets, as the festival is known to sell out! Tickets for the West Cork Chamber Music Festival can be booked on the festival website or by calling the West Cork Music office.
Jul
13
Sat
2019
Wild Atlantic Mizen Charity Cycle

Support Irish Community Air Ambulance, MS Ireland West Cork Branch, and the Durrus Men's Shed in this 3 route Charity Cycle along the Wild Atlantic Way!
The Wild Atlantic Mizen Cycle (formerly The West Cork Emergency Services & Friends Charity Cycle) will be based in Bantry, West Cork and will be held on Saturday, 13th July 2019.
See the stunning scenery of West Cork by cycling the Wild Atlantic Way around the Mizen and Sheep's Head Peninsulas. There are three routes: 130k, 100k and a 65k route, all starting and finishing in Bantry.
The Wild Atlantic Mizen Cycle is held to raise funds for local charities. Thanks to the help of our many sponsors, we ensure that practically every cent raised goes to the charities. The cycle is organised by the West Cork Emergency Services and Friends, primarily made up of members of An Garda Síochána, Cork County Fire Service, HSE Ambulance Service, West Cork Civil Defence, The Red Cross and The Irish Coastguard.
Now in its 16th year, this cycle has already raised over €425,000 for local West Cork charities.
Event Details
Registration/ sign–on will be at Bantry Fire Station on Friday evening 12th July from 7.00pm to 8.30pm and on Saturday morning 13th July from 7.30am to 8.30am. The cycle will start at 9.00am; participants can start before this time but the Support Vehicles will not be available until the official starting time.
There will be water stops and food stops en route and there will be a post-cycle party in Bantry afterwards led by a BBQ in the Fire Station. A repair/ breakdown van will be available on the day but you are encouraged to have your bike serviced beforehand.
Aug
21
Wed
2019
Masters of Tradition: A Traditional Music Festival

Masters of Tradition is a five-day traditional music festival held each August in the West Cork town of Bantry
Masters of Tradition Festival features a series of performances, covering the full spectrum of Irish traditional music. The performances take place in Bantry House, one of Ireland's most exquisite historic mansions, and in one of Bantry's other special venues, St Brendan's Church.
The event provides a platform where subtle and sometimes obscure elements of Irish traditional music can be heard. By seeking the heart of the music we find a universal voice that has widespread appeal reaching across many cultural and musical barriers.
The festival is headlined by its Artistic Director, Martin Hayes, the fiddler from East Clare, whose distinctive touch and extravagant virtuosity has brought the tradition to new levels. His famous trance-evoking sets with Dennis Cahill have mesmerised audiences all over the world and will do again this summer!
Check out the full programme at http://westcorkmusic.ie/mastersoftradition/programme
Plan your visit! Click the link for great places to stay and eat http://livingthesheepsheadway.com