When:
September 20, 2015 @ 5:00 pm – September 25, 2015 @ 3:00 pm
2015-09-20T17:00:00+00:00
2015-09-25T15:00:00+00:00
Where:
Good Things Café
Durrus
Co. Cork
Ireland

Contact:
Carmel Somers
+353 (0)27 61426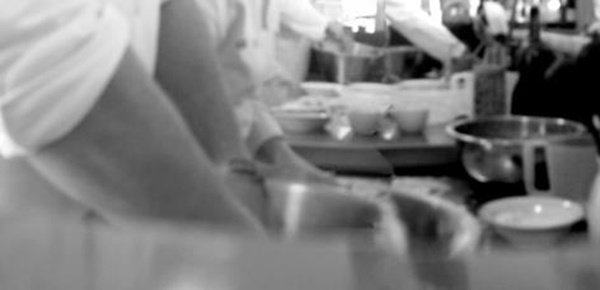 Take the 5½ Day Kitchen Miracle programme and enjoy a cookery course which combines essential skills and the beautiful fresh food produced around the Good Things Cookery School in West Cork.
The objective is really simple: to teach you a whole repertoire of starters, main courses, puddings and all those little extras that so impress people (you know, things like delicious home-baked bread, home-made mayonnaise, great cakes) in just five and a half days.
A Tall Order?
Not really, because there will be just six students on each course, and Good Things' Carmel Somers will be at the helm. We'll have plenty of extra kitchen staff, so it will be a week with no washing up!
Carmel Somers has been running this course now for five years and all the students are amazed by what they have learnt, the confidence they have gained, and the relaxed approach they now have to cooking.
Why has Carmel called it the 51/2 Day Kitchen Miracle Programme? Because it is a miracle. Carmel has managed to squeeze so many things into a single week that some of the students have said that every day has been a miracle for them. People have even referred to it as a life-changing experience!
What Can You Expect?
Well, you can expect to work quite hard. OK – very hard. First Carmel – a Bib Gourmand-winning chef – will demonstrate something, then you'll make it, and later we'll all eat it!
In order to pack more in to your week, you'll have several things on the go at once. Plus there will be visits to artisan producers, wine tastings and possibly some other activities such as outings to farmers' markets.
"Personally," says Carmel, "I cringe when I read that something is going to be 'fun' or 'entertaining' so, to put it to you another way, you have my personal word that you won't be bored."
Yes, the course covers a great deal of ground, but you'll be working in a calm, cheerful environment with plenty of support.
What Will You Learn?
"My passion is for cooking with really first-class, local, seasonal and (where available) organic ingredients", says Carmel. "As the courses are held throughout the year we won't be sticking slavishly to the idea of 'local' and 'seasonal', but it will form the backbone of what we are doing. Indeed, understanding how to recognise really good quality ingredients is an important part of learning to cook well."
The course is very 'action orientated'. At the end of each day you will know how to cook half a dozen or so more things plus you'll have picked up any number of insider tips and tricks.
You'll learn learning basic techniques that can then be readily adapted in a wide range of recipes. For instance, how to sweat, sauté, pan fry, sear, and make a basic soup and tart. Essentially, you'll come away from this course proficient and confident. "I'd go so far as to say that there won't be a recipe in the world that will faze you," Carmel promises.
Where Does the Course Take Place?
In Carmel's restaurant kitchen at the Good Things Café on West Cork's Sheep's Head peninsula, and – since the restaurant will be closed – in the restaurant itself.
Is This the Course for You?
The course is of equal relevance regardless of your level of experience. Carmel Somers will teach you her method and style of cooking, and show you that keeping it simple is always best.
Note that this course kicks off late on Sunday afternoon. That way, when we get going on Monday morning, you'll know your way around the kitchen and we won't need to waste time discussing things like composting and kitchen hygiene. On that Sunday night you'll be Carmel's guest for an early supper.
The Cost:
This course will cost you €875 for five and a half days. This may seem like a lot, but bear in mind it includes more than you can ever hope to eat, all made from the best ingredients, and you get lots of stuff to take home. And there is a wine tasting!
What the Course Fee Includes:
Five and a half days of demonstrations and practical sessions.
All ingredients.
Light snacks, lunch and food to take home for your evening meals.
Visits to artisan producers
Your own personalised chef's jacket.
Complete set of course notes and recipes.
Dinner for you and a guest.
Wine tasting.
No washing up – so a week of just cooking!
Course 'outcomes':
You will know all the cooking basics from how to fillet a fish to how to make a stock, and from how to roast meat, fish and vegetables to how to bake bread. You'll have a good repertoire of recipes so that you can confidently cook at least twenty dishes. You will have the confidence to tackle any recipe! We can go as far as to say you will be cooking without a recipe.
What the Course Fee Doesn't Include:
Local accommodation. A wide range of self-catering, guesthouse and hotel accommodation available with full details here. For this course, self-catering seems to work best.
Transport to and from the school each day (but if you stay in the village you can walk or we'll arrange for you to get a lift).
Alcoholic drinks (well – we will open wine and beer every day and there will be the wine tasting so you will get some alcoholic drinks – but it just won't flow like water).
Only six students per course
This is an intensive hands-on cookery course for those who want plenty of personal tuition.
Learn to cook a complete repertoire of dishes – starters, mains, puddings and all sorts of extras – with the confidence of a seasoned professional.
This course will also run from April 19th – 24th, 2015.