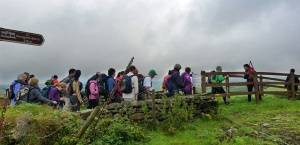 From the Sheep's Head lighthouse to St Finbarr's hermitage at Gougane Barra: our 7-day walking tour offers you an unforgettable opportunity to explore West Cork's spectactular landscape.
We have designed this week to give you a taste for Irish life and landscape. Our walk is what you make it…if you want to make this a personal thoughtful journey, you will find space to do so. If you need to fill your lungs with fresh air and your eyes with stunning scenery, you will not be lacking in either.
If you need a reflective spiritual journey, taking the path of St Finbarr to Gougane Barra you will find Christian direction and solace. If you like Irish music and folklore you will discover it along the way.
You will spend time relaxing in Bantry which is a heritage town with two excellent heritage trails. Bantry House is a beautifully restored stately mansion, and home to the West Cork Chamber Music Festival. You will savour the best of wholesome food in farmhouses and restaurants along the way, and you will have an opportunity to view the artistic endeavors of West Cork in craft shops, particularly in Bantry.
In short this is a microcosm of the best of Ireland: past and present. We will do our best to make it special for you.
Find out more on the event website.