When:
August 31, 2019 @ 7:30 am – 11:30 am
2019-08-31T07:30:00+01:00
2019-08-31T11:30:00+01:00
Where:
Whiddy Island
Whiddy Island
Co. Cork
Ireland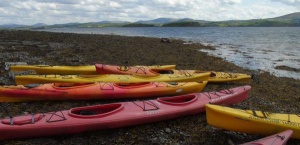 Bantry will be making a splash this August with the fourth Bantry Bay Adventure Race on August 31st 2019!
The event will begin with a 5k run on Whiddy Island. Participants will then kayak a 1.5km route across Bantry Bay towards the Abbey pier where they'll jump on their bikes for the final leg of the Adventure Race, cycling down a 22.8km stretch of the Sheep's Head peninsula on the Goat's Path before returning to Bantry for a well-earned celebration.
Places are limited to 240. Individual participants will be joined by teams of three at the event, and the team element gives people the chance to participate even if they're not quite ready to tackle all three disciplines this year.
'We're delighted to be welcoming people to Whiddy Island and introducing them to the fantastic land and sea trails they can enjoy here', says Tim O'Leary of the Whiddy Island Development Association. There are very popular runs on across the West Cork islands throughout the summer, and the Adventure Race gives people a way to make the most of the fantastic environment we have here for adventure sports.'
'The development of Bantry Blueway has begun to draw attention to the potential for water sports around Whiddy, and the Adventure Race will give participants and onlookers a great chance to see the Blueway and the Sheep's Head cycle route being used to their full potential.'
The Adventure Race is raising funds for Bantry Inshore Rescue Association and other local charities (named in January 2019).
For more information about the event, see http://bantrybayadventurerace.com
or email [email protected]