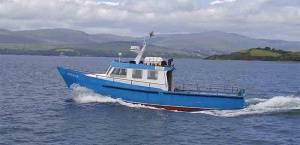 Take a boat trip out and walk around one of West Cork's islands!
On Whiddy, we'll explore historical sites from the ruin of O'Sullivan Bere's Castle, to deserted English gun batteries, and a World War One seaplane base, on an absorbing and informative tour.
The island, which currently has a population of around 20 people during the winter months, is about 5.6km long and 2.4km wide.
The cost of this walk includes ferry transfers to and from the island, courtesy of Whiddy Island Ferries.
Details:
C Grade Walk.
Bus will depart the Square, Bantry, at 10.30 am.
Cost:
€15 per walker.
Cost includes price of ferry to Whiddy Island.
There will be a barbecue and a band on Whiddy Island after the walk on Sunday. For booking and other Bantry Walking Festival details visit the event website.