When:
July 25, 2016 @ 8:00 pm – 9:45 pm
2016-07-25T20:00:00+01:00
2016-07-25T21:45:00+01:00
Where:
Gougane Barra Hotel (Marquee)
Gougane Barra
Co. Cork
Ireland

Cost:
€25 (€20 concessions)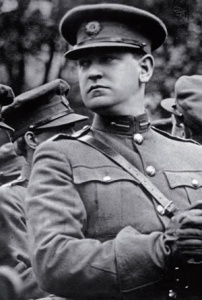 h2>Declan Gorman's widely acclaimed play, The Big Fellow, explores the lives of two of Cork's most famous sons
The play is based on Frank O'Connor's 1937 biography of Michael Collins and will have its first Cork showing at the 'Theatre by the Lake' festival in Gougane Barra.
Premiered at the Drogheda Arts Festival on May 1st, the show has enjoyed a successful run at Smock Alley Theatre in Dublin and an initial tour of the East-Midlands region where it was universally greeted with standing ovations and positive reviews. Actors Gerard Adlum (as O'Connor)and Cillian Ó Gairbhí (as Collins) were singled out for their "outstanding energetic and passionate" performances and their "humour" while the musical score by ex-Waterboys Colin Blakey was acclaimed as "atmospheric".
The play begins with O'Connor in his study, engrossed in a scene from his controversial biography of Collins, just 13 years after the West Cork rebel was assassinated at Béal na Bláth. As O'Connor writes, Collins literally comes to life, and together writer and subject relive the glorious excitement and ultimate tragedy of the Irish revolutionary period. Collins returns to Dublin from his post office clerk's job in London in 1916, an unknown rural Cork volunteer signing up to take part in the Easter Rising, only to rise swiftly to mythical status as the intelligence genius leading the War of Independence.
But why, he wonders, is this urban Cork intellectual writing his story now?
Gradually it transpires that Frank O'Connor was himself a boy soldier in the great Independence struggle. So did he side with or against Collins when Ireland divided and the dreadful Civil War set in?
Described as 'an edge-of-your seat rollercoaster of a drama', The Big Fellow is hugely entertaining, laced with the comic interludes and the wild adventure of young men at the height of their passion and daring, taking on the mightiest empire on the globe before tragedy and recriminations break out. The Sunday Independent described it as 'totally engaging' while regional newspapers noted that "a wonderful use of humour is what differentiates Gorman's drama from other historical narratives," (Westmeath Examiner).
A Co-Motion Media production, The Big Fellow is written and directed by Declan Gorman whose previous literary adaptations from Kavanagh (The Green Fool) and Joyce (The Dubliner's Dilemma) have mesmerised and entertained audiences from Cork to Mayo to Moscow.
Don't miss this riveting night of theatre in its natural home in Gougane Barra in the midst of the scenic and evocative landscapes where so much of this history was lived out a century ago.
Early-bird dinner is available at the Gougane Barra Hotel from 17:30pm. Call 026 47069 now to book a table.