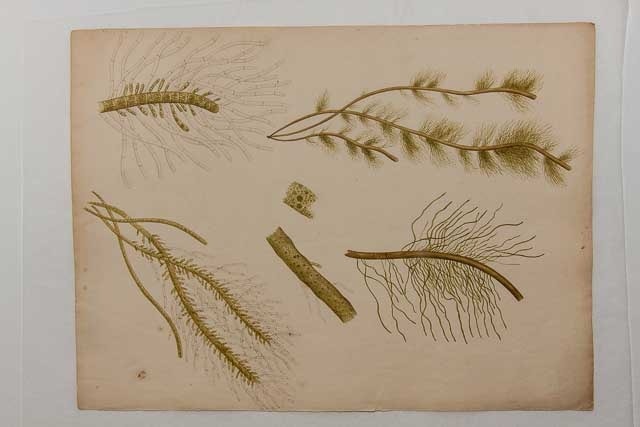 Discover the beauty of botanical art with Ireland's first female botanist…
The botanical art of Ellen Hutchins will be on display in Organico Cafe on and off through the month of August. The exhibition of enlargements of her exquisitely detailed seaweed drawings will be alongside beautiful plant and fruit drawings by contemporary botanical artist, Shevaun Doherty. A highlight of the exhibition will be Shevaun's watercolour drawing of one of Ellen's specimens from the Herbarium at Trinity College Dublin.
Discover the delights of botanical art – a practice spanning two centuries. See how it captures nature and creates art. Be amazed at the detail and the time taken to produce one drawing. This small exhibition links to the one in Bantry Library with Ellen's seaweed specimens, enabling you to see 'matching' drawings and specimens. Shevaun will also be drawing live in two botanical art demonstrations. Join practical botanical art workshops run by her – you can find out more information here.
The enlargements of Ellen's drawings are shown with the permission of Museums Sheffield. Exhibition and associated activities are funded by a Cork County Council arts grant. Free access and no bookings needed! This event is part of the annual Ellen Hutchins Festival.
Exhibition Details
Available for viewing Saturday August 19th, Monday August 21st through Saturday August 26th, and Monday August 28th until Saturday September 2nd. From 9am – 6pm at Organico Cafe in Bantry town.
More about Ellen Hutchins
Ellen Hutchins (1785–1815) was an early Irish botanist from Ballylickey in County Cork. She is known for her botanical illustrations in contemporary publications. She is also known for collecting and identifying hundreds of specimens.
More about the Festival
Ellen Hutchins was Ireland's first female botanist. Born in Ballylickey in County Cork, she specialised in lichens, mosses, liverworts & seaweeds. This festival celebrates her life, discoveries, and work. Now an annual event, the festival includes walks with botanists, talks, exhibitions, children's events, and a very special seaweed event on Whiddy Island.