When:
September 12, 2017 @ 11:00 am – 3:00 pm
2017-09-12T11:00:00+01:00
2017-09-12T15:00:00+01:00
Where:
Organico Cafe
Bantry
Co. Cork
Ireland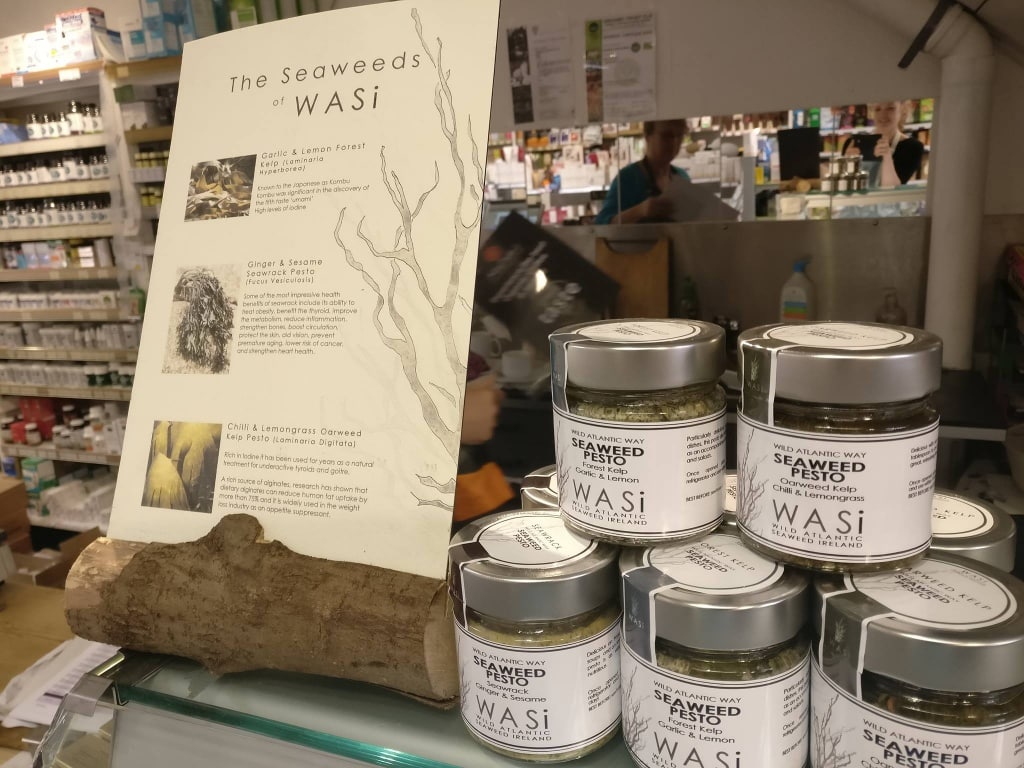 It is said that Wasi Seaweed pestos are the pesto's of the future! Come and meet Claire, who harvests seaweed from Bantry Bay to make her delicious products. Have a taste and be converted!
This free event is part of the 'A Taste of West Cork Food Festival'.
More about Wasi Seaweeds
Produced on the Wild Atlantic Way at Donemark Falls just outside Bantry – you can't get much more local than that! Wasi Seaweeds are the brainchild of Clare O'Sullivan, a Bantry local and does everything from picking the seaweed to designing the stylish labels. Clare says: 'We continue the age old tradition of hand harvesting all our seaweeds along Ireland's Wild Atlantic Coast, bringing you the choicest of seaweeds and ensuring its ability to regenerate for future generations.'
Garlic & Lemon Forest Kelp (Laminaria Hyperborea)
Known to the Japanese as Kombu. Kombu was significant in the discovery of the fifth taste 'umami'. It contains high levels of iodine.
Ginger & Sesame Seawrack Pesto (Fucus Vesiculosis)
Some of the most impressive health benefits attributed to seawrack include its ability to treat obesity, benefit the thyroid, improve the metabolism, reduce inflammation, strengthen bones, boost circulation, protect the skin, aid vision, prevent premature ageing, lower risk of cancer and strengthen heart health.
Chilli & Lemongrass Oarweed Kelp Pesto (Laminaria Digitata)
Rich in iodine, it has been used for years as a natural treatment for under active thyroids and goitre. A rich source of alginates. Research has shown that dietary alginates can reduce human fat uptake by more than 75% and it is widely used in the weight loss industry as an appetite suppressant.
More about the Festival
A Taste of West Cork Food Festival brings together a unique mix of food markets, demonstrations, competitions, dinners, brunches, and banquets, along with food-tastings, talks, exhibitions, children's events and more!