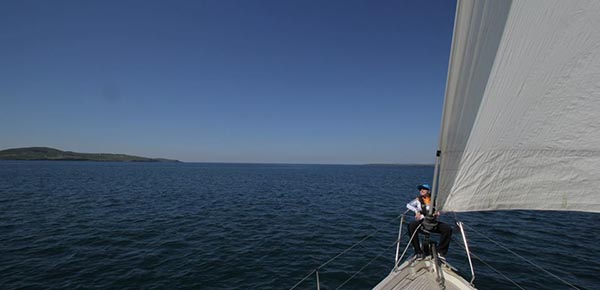 The RYA Competent Crew course with West Cork's Carbery Sailing is a 5-day course designed for those who would like to become active crew members rather than just passengers
On the course, you will gain knowledge of sea terms and parts of a boat, her rigging and sails, sail handling, ropework, fire precautions and fighting, personal safety equipment, man overboard, emergency equipment, meteorology, seasickness, helmsmanship, general duties, manners and customs, rules of the road, dinghies
This is the ideal course for anyone wanting to try their hand as an active crew member and beginners are welcomed. Your theory tuition is followed by 5 days of practical tuition aboard our luxury Hallberg-Rassy 46 yacht 'Merlin'. You'll learn new skills and gain experience and confidence as you work with our expert instructors, exploring the unspoilt waters of Dunmanus, Roaringwater and Bantry Bays.
At the end you will be able to steer, handle sails, keep a lookout, row a dinghy and assist in all the day to day routines. The course, accredited by the Royal Yachting Association, ends on the following Thursday afternoon and includes all food and 5 nights accomodation.
The course will finish about 6.30 pm on the final day, after boat cleaning and individual debriefings.
Other course dates for 2015 can be found here.