When:
July 17, 2017 – July 24, 2017
all-day
2017-07-17T00:00:00+01:00
2017-07-25T00:00:00+01:00
Where:
Colaiste Pobail Bheanntraí
Carrignagat
Bantry, Co. Cork
Ireland

Contact:
West Cork Music
+353 (0)27 52788/9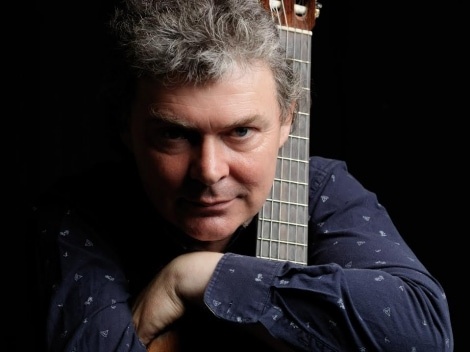 Song writing with John Spillane is a week-long exploration for adults using freedom and space to explore your creativity.
John Spillane says: "At my song writing workshops we actually write songs. Having attended a few workshops where the participants play their songs to be criticised by experts, I was inspired to invent a novel approach, where we all sit down and write a finished song in one session. This teaches many lessons, including finishing things, which is often a big problem for writers. I create a space where all negativity, all criticism and judgment are locked outside."
What you'll experience in Songwriting with John Spillane:
– We will write songs. First we write words. Then we assemble them in a certain order, using the tricks of the trade, verse, chorus, repetition, rhyme etc. Then we sing them and we have a song.
– I try to help people lose whatever inhibitions and fears they may have about writing songs. Positivity is the key, and this can be applied to other parts of life also.
– Anyone who signs up for my song writing workshop should be prepared to sing, it doesn't matter at all how good or bad a singer you think you are!
– Storytelling in the song; we will examine and enjoy the Irish ballad tradition and see how a story may be told in a song, how the music can heighten the action.
– We will look at the magical chemical reaction that happens when words and music meet.
– Each participant will pick a theme and write one serious ballad which can be perfected later in their own time
– The aim is to have a lot of fun, write a lot of words and music, move quickly and not get bogged down.
About John Spillane:
John Spillane is a musician, songwriter, performer, recording artist, storyteller, poet, dreamer – a canvas filled with colour and brilliance. His music transports the listener; his live performance captivates the audience. In a world filled with strife and upheaval, a time-out with John Spillane is enough to ease the load a bit on anyone lucky enough to bask in his light. The man and his music are pure magic.
John is a native of Cork, the county he lovingly describes as "the centre of the universe", and it has been a huge creative influence on him. Vocally, he is quite unique with an almost sean nós-like element in his singing and he is said to have a voice "full of honesty, commitment and sensitivity".
Two-time Meteor award winner, John is one of the most accomplished songwriters in Ireland today. Among those who have covered his songs are Christy Moore, Karan Casey, Pauline Scanlon, Cathy Ryan, Sharon Shannon, Sean Keane, George Murphy, to name a few. He performs to audiences large and small everywhere.
"… some of the most skillfully crafted, vividly realized songs anyone has written in Ireland over the past dozen years." Earle Hitchner, writer/reviewer for Irish Echo and The Wall Street Journal.
Details:
This workshop occurs daily from the 17th of July to the 24th from 9:30am – 12:30pm in the Colaiste Pobail Bheanntraí (Bantry Community College). Click the link above to book your spot!