When:
August 16, 2014 @ 9:00 am – August 17, 2014 @ 4:00 pm
2014-08-16T09:00:00+01:00
2014-08-17T16:00:00+01:00
Where:
Top of the Rock Pod Pairc & Walking Centre
Top of the Rock Pod Páirc & Walking Centre
Ar An gCarraig, Rockmount, Drimoleague, Co. Cork
Ireland

Cost:
$6 Bus per day, €8 Lunch per day, €4 Walk per day
Contact:
David Ross
+ 353 (0)86 173 5134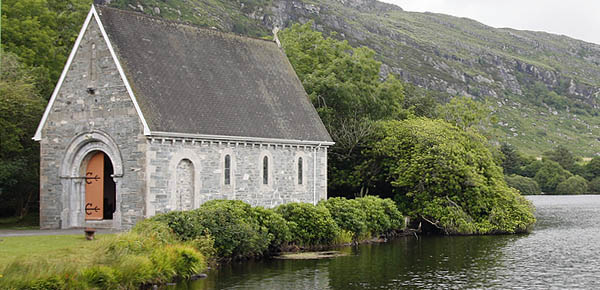 Follow St Finbarr's Pilgrim Walk path from Drimoleague to Gouganne Barra.
In West Cork and South Kerry the practise of walking pilgrim paths to St Finbarr's hermitage in Gougane Barra has been in place for many centuries. In one such place, Drimoleague, local tradition recalls that St Finbarr arrived at the Top of the Rock in the sixth century and admonished the people to return to Christ, after which he made his way to Gougane Barra.
The practise of walking this ancient route has been revived since 2008. Groups as large as fifty and as small as three or four are regularly found walking the 22 mile (33km) route. The route itself has been opened up to the public with the goodwill of landowners along the route, who maintain the walks under the Walks Scheme.
Leaving aside the spiritual benefits for a moment, this walk is a truly magnificent journey which goes "up and over" three mountain systems and four valleys, namely the Ilen, Mealagh, Ouvane and Lee. There are spectacular views over Bantry Bay and stretches of the West Cork coastline. A rich archaeological landscape combined with interesting folklore and the characters one might meet along the way make this an experience that draws people back again and again.
Saturday 16th August:
You can park your car for the day in at the Top of the Rock Pod Páirc and Walking Centre. At 9am we depart from the Top of the Rock, heading for Castledonovan, Mullaghmesha and the Mealagh Valley. Lunch will be served in the Mealagh Valley community hall at approx. 2pm . Arrival in Kealkil having completed the first 12.5 miles of the walk at approx. 5.30pm.
A bus will convey you back to Drimoleague for around 6.30pm.
Sunday 20th April:
Park your car at Carriganass Castle Kealkil, for a 9am start from Carriganass Castle Kealkil for the 9.5 mile walk over the mountain to Gougane Barra. There will be a Sandwich lunch at a stop near Lackavaun before the steep ascent. An alternative will be available for those who wish to take a less strenuous route to walk into Gougane by road. Arrival in Gougane at approx.
4pm with a short time of reflection.
Cost:
The lunch and bus costs €8 and €6 respectively each day. This year we are requesting an extra €4 each day to extend a gratuity to extra guides who will lead us. We expect between 40 and 50 walkers.
Level of Fitness:
We have had people in their seventies do the pilgrim walk but they need to be extraordinarily fit . Particularly on Sunday the gradient can be steep and demanding over an extended period. The area is subject to dense fog and we have to stay together at all times.
The path is well marked and discernible at all times.