When:
July 14, 2016 @ 8:00 pm – 9:45 pm
2016-07-14T20:00:00+01:00
2016-07-14T21:45:00+01:00
Where:
Gougane Barra Hotel (Marquee)
Gougane Barra
Co. Cork
Ireland

Cost:
€20 (€16 concessions)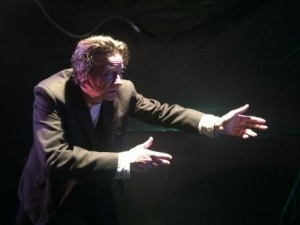 Theatre by the Lake at Gougane Barra begins with The Aran Islands
A new one man show starring actor Brendan Conroy, the play is based on the journals of playwright J.M. Synge from his time living on the Aran Islands. It's a wonderful mix of tragedy, comedy, and mystery.
Between 1898 and 1902 playwright J.M. Synge spent much of his time on The Aran Islands, following the advice of W.B. Yeats to go live among the islanders and 'express a life that has never found expression.' In this grey, sea battered landscape full of mist and wild rain, where hearth is home and storytellers regale with tales by the fire, Synge was to find inspiration for many of his later works including 'Playboy of the Western World.'
His experiences of living out west on the remote islands were captured in a series of journals eventually published in 1907.
O'Byrne's thoughtful adaptation remains faithful, for the most part, to Synge's original material, capturing and conveying the spirit and life of the islanders. Following the aspiring writer as he immerses himself in the island's uncivilised landscape founded on two languages, steeped in ancient loyalties and folklore, Synge's is regaled by stories of fairies, of the faithful Lady O'Connor and the faithless wife of the dead man, stories with counterparts told throughout the civilised world. The islanders themselves, with their soul deep keening, telling time through an open door and their doomed wrestling with the sea resonate deeply with Synge who gradually becomes a storyteller in his own right.
Imbued with a rich romanticism, O'Byrne's 'The Aran Islands' recreates a time lost in the mists of memory, a time when the islands were already changing and brings it to life with all its tragedy, comedy and mystery.
"A haunting and powerful experience built around an incredible performance" delivered in the wonderful setting of Gougane Barra. Not to be missed!
Early-bird dinner is available at the Gougane Barra Hotel from 17:30pm. Call 026 47069 now to book a table.