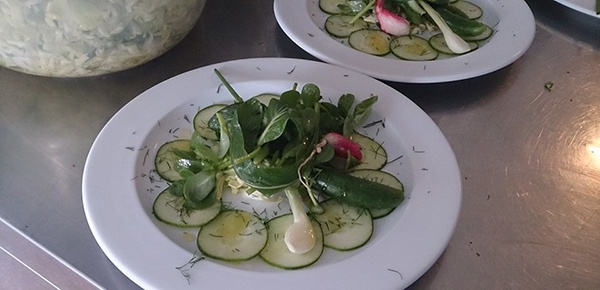 Ode to scrumptious, mouth-watering dishes and no flesh in sight! This one-day cooking course in beautiful West Cork is designed to arm you with a complete repertoire of vegetarian dishes.
Over the last few years, this vegetarian cooking weekend has attracted lots of non-vegetarians: some with vegetarian family members, others with smallholdings, and those with a surplus of vegetables. All of them have been looking for a creative way to cook the humble vegetable. Here at the Good Things Café on the shores of Dunmanus Bay, it is about cooking really scrumptious, mouthwatering dishes that just happen not to involve meat or fish.
The course will cover a few straightforward vegetarian recipes. Good Things' Carmel Somers will introduce you to beetroot, lentils and aubergines, three ingredients which can be so exciting). "I'm also thinking of Roast Butternut Squash and Cumin Soup, Spicy Red Pepper Soup with Saffron Mayonnaise and Seasonal Risotto", says Carmel, "but the primary emphasis will be on more exciting dishes."
Carmel will be demonstrate how to prepare Imam Bayildi, Courgette, Basil and Pine-Nut Tart, and many other dishes. There will be a balance between starters and main courses. This is a weekend when we'll really strip our growers' gardens bare and we guarantee that by Saturday night you'll be able to produce at least a dozen really first-class vegetarian dishes with the casual nonchalance of a professional chef.
Vegetarian cuisine is going through an amazing renaissance at the moment and this is an excellent way to learn all about it.
The Practicalities
This one-day course is designed to teach you a complete repertoire of vegetarian dishes.
The price includes morning coffee, lunch, afternoon tea.
This one-day demonstration involves small classes of no more than sixteen people.
Cost:
The event will cost €140.