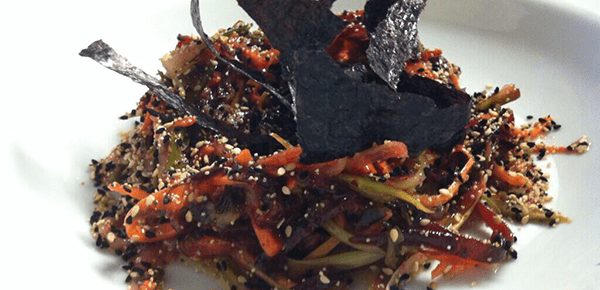 At last! A chance to get to grips with using seaweed in your cooking.
You'll be learning from Carmel Somers of the renowned Good Things Café, Sally McKenna (author of Extreme Greens, the best book on seaweed to hit our shelves), Ewan from Irish Sea Vegetables in Co. Clare, and April Dannan owner of Rebel Foods and an expert in fermentation and nutrition.
This is a great opportunity to learn how to cook with seaweed, and this year we have decided to make the class longer so we can visit the shore and learn how to recognise and identify the different seaweeds that grow here on Dunmanus bay.
After a quick cup of coffee at Good Things Café and Cookery School, we will head to the shore where Sally and Ewan will share their knowledge with us while Carmel will prepare a seafood breakfast roll for you from the BQ. T
Then it is back to Good Things Café for a day of dishes using seaweed from breakfast right through to dinner and including some very clever snacks.
Sally and Carmel have a great day planned. Over the last couple of years Sally has been researching, cooking, making creams, potions and lotions with seaweed and has been travelling around Ireland giving classes sharing her outstanding knowledge.
Amongst many dishes, (at least a dozen) you will make a seaweed smoothie, Dulse scones to go with chowder with seaweed, sea vegetable salad with pickled sour cherries, and even a chocolate and Nori ice cream which is a big hit on the Good Things menu.
Of course, in this class we will also be covering the health benefits of seaweed in our diet. Sally will also share her recipes for some of her homemade seaweed cosmetics. Then in the afternoon we will be joined by April who will show us how to ferment and talk about the benefit of them in our diet. April will explain the work she does along with many tips on nutrition and lifestyle.
Do join us for a day of discovery, fun and lots of great dishes all with
health benefits. Also this is a chance to get a signed copy of Sally's book.
The day will include:
Demonstrations and a visit to the shore.
Small classes – no more than sixteen people.
Bring boots and wet gear!