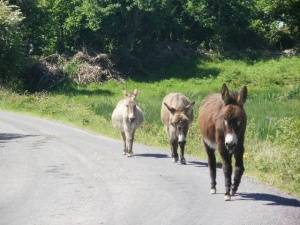 A walk on Whiddy Island in Bantry Bay will give you a great chance is always enjoyable. The island is calm and tranquil and the scenery, with views over Bantry Bay, is stunning.
Boats will leave Bantry Pier at 11.30am. The walk takes about 3 hours, and we will be travelling over all kinds of terrain. The route covers moderate hills beaches and roads, so sensible footwear is essential.
We will be visiting a lot of historical sites and your guide will be filling you in on the history of the island and giving you time to take in some beautiful scenery.
Walkers are always amazed at how much history social and military there is on the island. The American naval air service had a seaplane base here during World War One, the English military were based there in the 1800s, and it had a population of over 800 people at one time.
There will be the option of going straight back to Bantry, or stopping at the Bank House bar and restaurant for refreshments after the walk, so why not give it a go, or if you have people visiting for the long weekend what better way to spend the day.
The cost of the ferry is €6.50. For more details you can contact Tim O'Leary on +353 (0)86 862 6734.