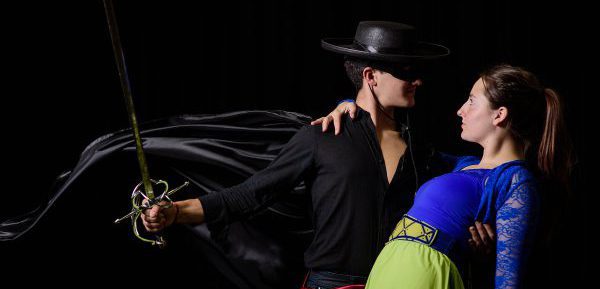 Join Off the Ground this summer as they transport you to New Mexico in 1821, in the lovely grounds of West Cork's Bantry House!
On the brink of Mexican Independence, the Viceroy of New Spain, aided by the evil Ramón family, has turned New Mexico into a tyrannical, poverty-stricken wasteland for the townspeople. Their legendary hero, Zorro, is their only hope of relief and resolution. As the rebel group, The Alliance, attempt to fight back, Zorro must be smarter than he has ever been to keep the Ramóns from turning his beloved people against him. Can he change his ways to stop them?
From ex-Off the Ground student and regular cast member for the last six years, Connor Wray, this adaptation of the
classic Zorro tales has sword-fighting, romance and adventure in abundance. Connor commented that, "The figure of Zorro is one that everybody recognises, even if they don't necessarily know the story. The advantage of that, when writing it, is that I get to take all the best bits and turn it into a real epic adventure story."
Artistic Director Dan Meigh said, "This is probably one of the strongest casts we've had, which is really exciting. The play has some real moments of drama alongside the usual silliness of certain characters and the acrobatic fight sequences. It promises to be a real rollercoaster."
Off the Ground Theatre have been taking high-quality theatre on tour since 1995. Based on the Wirral, their summer productions have become more ambitious, exciting, and adventurous year on year, and 2016's instalment of Zorro promises to continue the trend.
In the words of co-director for Zorro and YEP associate director, Chris Tomlinson, "The talent of our young cast is so impressive, this could easily be one of those productions where you say, "Oh, I saw them first, before they were famous, in Zorro."
Tickets are available at the door or www.offtheground.co.uk.