The Fish Kitchen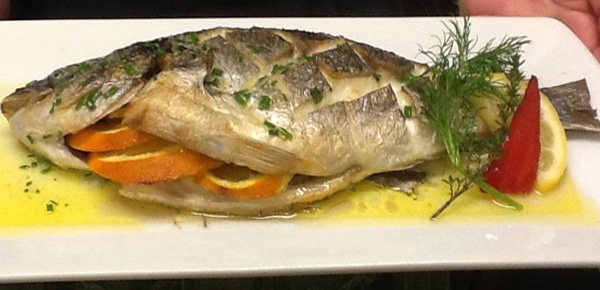 The Fish Kitchen is a family-run restaurant which serves fish, fresh from West Cork's waters, in a modern bistro setting.
Bantry Bay mussels and locally-sourced ingredients feature on the menu here, and specials change on a daily basis to feature the best of the day's catch. A selection of Irish craft beers is available, and visitors always comment on the Fish Kitchen's friendly atmosphere and excellent service.
It's a wonderful place for lunch or for a special evening out!



Fittingly located above Bantry's fish vendors, The Fish Kitchen is a welcome addition to town. Everything is unfussy, from the décor to the food styles to the prices, but one thing is exacting: the care shown in the kitchen. The finest mussels, scallops, haddock and more are prepared perfectly Lonely Planet Ireland, 2010
Location:
Above the Central Fish Market, Bantry, Co. Cork
Opening Hours:
Open for lunch and dinner service Tuesday to Saturday
Winter Hours:
Closed Sundays & Mondays
Tel:
00 353 (0)27 56651
Email:
eat@thefishkitchen.ie
The restaurant is located above Bantry's Fish Shop and access is only available via a set of stairs.
Yes
Credit Cards:
Yes
Special Dietary Requirements?
Coeliac options available.
Gluten free beer & cider.
TripAdvisor Reviews:
Yes
Facebook:
Yes
Twitter:
@TheFishKitchen