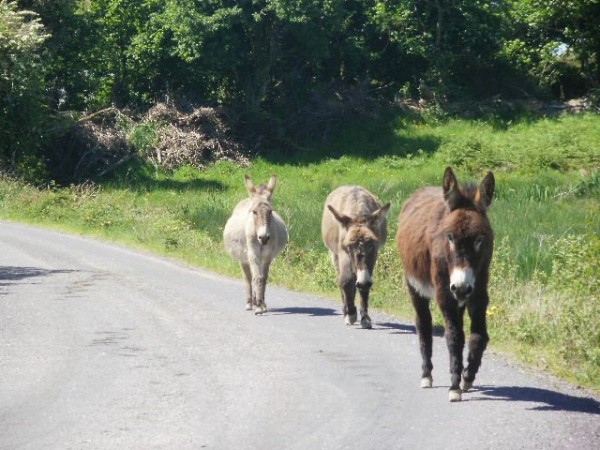 Whiddy Island is nestled between the Sheep's Head and Beara peninsulas in Bantry Bay
The island, which enjoys a superb strategic position in one of the world's finest deep water harbours is a place where walkers can absorb a landscape steeped in history and – in the summer months – wreathed in red and purple fuchsia. It's a hideaway where bird-watchers can break out the binoculars; an escape where everyone can grab a well-earned drink at the welcoming island pub, The Bank House. Whether you're walking, boating, kayaking, or simply relaxing here, you'll find an island of hidden depths.
It has a rich naval history. During World War One, seaplanes from a US navy base on Whiddy patrolled Fastnet Rock. More recently, the island has served as a Gulf Oil terminal for berthing supertankers. It was here, in 1979, that the French tanker Betelgeuse exploded in what remains the biggest maritime disaster in Irish history.
Of course, there's more to Whiddy than its naval and industrial connections. At the Kilmore lakes, an early ecclesiastical enclosure features a holy well, church and graveyard dating from the 6th century. In the early 1500s, the great chieftain Donal Cam O'Sullivan Bere built Reenananig Castle on the island. The castle was bombarded during the Cromwellian Wars, and finally collapsed in a 1920 storm; however three magnificent forts have survived.
Things to Do on Whiddy Island
It's a great place to take to the water on Bantry Blueway – Ireland's first Blueway marine activity trail. You'll find information boards with trail maps, safety details, and tips on equipment hire and tuition.
A guided walk with islander Tim O'Leary – who featured TV3's acclaimed Islanders series – is a wonderful way to learn the military history of the island and the way that intertwined with the day to day lives of Whiddy's islanders (contact Tim O'Leary, Tel. +353 (0)86 862 6734).
A walk on Whiddy Island is a real pleasure. The island is calm and tranquil and the scenery, with views over Bantry Bay, is stunning. The waymarked walk which is part of the Sheep's Head Way walking route – takes about 3 hours and covers moderate hills, beaches, and roads, so sensible footwear is essential. For more information and to arrange guided group walks, contact Tim O'Leary
Bikes are available to hire from The Bank House Bar on Whiddy Island, directly opposite the pontoon. Cycling is a great way to explore the island and take in the great views available on the island, and across the Beara and Sheep's Head peninsulas.
Each year the West Cork Literary Festival runs a regular week-long workshop on Whiddy as part of its annual July programme, as well as other shorter events. It's a wonderful place to meet some of the most intriguing authors of our times! And when August rolls around, Whiddy hosts performances as part of the West Cork Fit-Up Theatre Festival.
Find out how to get to Whiddy Island, as well as island accommodation and events here.
You can learn more about West Cork's other inhabited islands at http://westcorkislands.com.