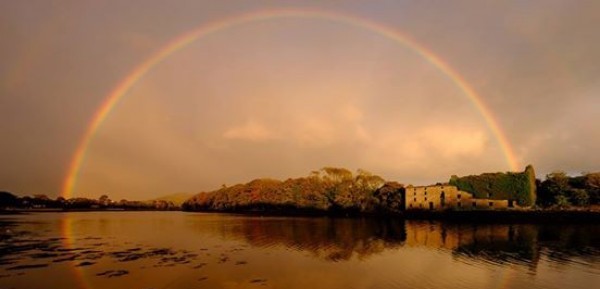 Durrus is a charming village at the head of the Sheep's Head peninsula, a European Destination of Excellence.
It's famous for Durrus Cheese, made in the valley of Coomkeen, and traditional crafts are kept alive here too. At Cronin's Forge, Celtic designs are embodied in contemporary ironwork, and at Dunbeacon Pottery you'll find beautiful craft pieces inspired by the local land and seascapes.
Traces of the past are evident in the Durrus grainstore which was built to store grain for shipment to England during the severe shortages of the Napoleonic War. In the famine years of the late 1840s, the building was used as an auxiliary workhouse, but it was no longer in use by 1850.
The village is set around the head of Dunmanus Bay. Kayaking and sailing are great ways to explore its waters!
Walk down the main street here, and you'll find traditional Irish pubs and modern cafés. The legendary Blairscove House and Restaurant on the village's outskirts is one of the finest places to eat along the Wild Atlantic Way!
Things to Do
Durrus is a wonderful place to begin your Irish adventure: there are great opportunities for kayaking, sailing, shore fishing and pony trekking adventures close by.
Durrus Féte – held each August – is one of the best-loved and loveliest family days out in the West Cork calendar!
Discover Local Crafts and Gardens
The charming Ballinvillon Gardens and Carraig Abhainn gardens are well worth exploring, and be sure to call to Cronin's Forge to see traditional blacksmiths at work.
You'll also enjoy a visit to Dunbeacon Pottery to see Helen Ennis working on her acclaimed pottery range, inspired by the local landscape. Or take a stroll on local waymarked routes, finding traces of Ireland's rich history, and beautiful views, at every turn.
Sample West Cork Food
The area is, of course, home to Durrus Cheese, the award-winning product of Jeffa Gill's dairy. Drive out of the village and turn right after St. James' Church to follow the winding road to the Durrus Cheese dairy in Coomkeen. Visitors are welcome to visit the dairy and to sign up for cheese-making workshops (see Durrus Cheese page for visit & workshop details).
In addition to Blairscove House, there are some great local restaurants in Bantry and Ahakista just a short drive away.
Places to Stay in Durrus
Blairscove House has lovely on-site accommodation available. The Sheep's Head Holiday Homes and Tíg na Fáilte cottage are well-appointed, and 4* B&B accommodation is available at Gallán Mór and Carbery Guest Lodge. You'll find a range of great local accommodation here. Non-Fáilte Ireland approved accommodation can be found at http://westcorkholidayaccommodation.com.
This charming village is a key staging post on the Wild Atlantic Way. It's a fantastic base for a holiday spent exploring West Cork's three peninsulas, and Ireland's unspoilt Atlantic coastline.