The tradition of Celtic design inspires the modern blacksmiths who work at Cronin's Forge on the shores of Dunmanus Bay.
You're welcome to visit the forge to see that tradition embodied in contemporary craft pieces created by Brian Cronin, a fourth-generation blacksmith.
Brian was introduced to the craft of blacksmithing by his father Kevin who started the family-run business with his wife Carmel 30 years ago. Kevin had learnt his skills from his grandfather, so the forge is built on skills passed down from generation to generation.
Brian's designs reflect the landscape, history and tradition of West Cork, as well as the Celtic influences his father loved. Both have contributed to a distinctive 'Cronin's Forge' style of ironwork that you'll quickly learn to recognise and appreciate. After your visit to the forge you'll find it's easy to spot Cronin's gates and railings as you travel along the peninsula!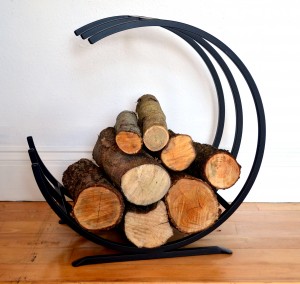 On your visit to the forge, you'll see the beautiful lamps and candle-holders made here, some with hand-blown glass shades. Hand-made fire irons, and tiny toasting forks are some of the items visitors like to bring home as a memento of their stay in West Cork.
Cronin's Forge is also home to craftwork produced by a handful of talented West Cork artists who have their wares on display in the Cronin's Forge craft shop.
These pieces, chosen to compliment items in the forge's own collection, demonstrate the same care for design and workmanship that the Cronins themselves show in their own work.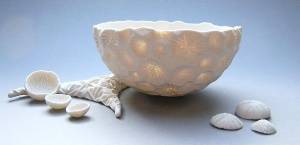 You'll find Mairi Stone's exquisitely-textured porcelain inspired by nature's organic forms and structures alongside glasswork from Trish Goodbody, and a range of cushions and soft furnishings that work brilliantly with the ironwork on display.
The expansion of the craft shop demonstrates the strength and depth of the local craft scene, and in fact Carmel Cronin has commissioned a 'Cronin's Forge' mug from Helen Ennis at nearby Dunbeacon Pottery for the craft shop's launch.
'There's such a wonderful craft scene, here on the Sheep's Head peninsula. and in West Cork more generally,' says Carmel. 'And, as more visitors head our way to see our dramatic coastline, we're hoping they'll enjoy discovering some of the craft pieces our landscape inspires.'
Celebrities who own Brian's work include Graham Norton and Irish international rugby star Ronan O'Gara.
Cronin's handmade iron pieces are distinctive examples of modern Irish craftsmanship, and will stand the test of time. You are welcome to talk to Brian about any commissions you might have in mind.

Groups are welcome. Just get in touch to schedule your group visit.
Location:
Durrus, Sheep's Head peninsula, Co. Cork
Opening Hours:
Mon - Friday: 10:00 - 17:00
Saturday & Sunday: 11:00 - 16:00
Tel.
00 353 (0)27 61114
Email:

[email protected]

Website:
http://croninsforge.ie
Facebook:
Yes