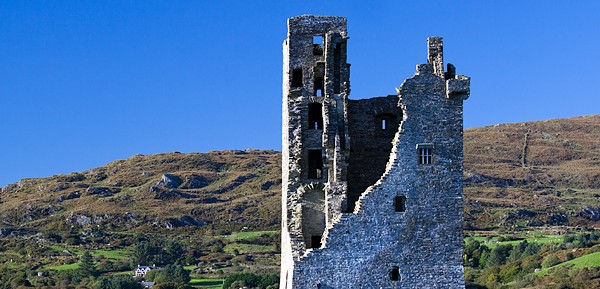 Drimoleague is known as the 'walker's junction' of West Cork
This picturesque village is a wonderful place to explore. Stroll along the River Ilen on the Drimoleague Heritage Walkways which lead you through lush farmland and river gorges. You'll find historic landmarks and panoramic views at every turn on these routes, and there are walks for people of all abilities.
The village's most famous monument is Castledonovan, an Irish tower house or túrtheach in a valley near Drimoleague. This was the seat of the Clann Cathail sept of the O'Donovans for a period during the 16th century, and the building's remains were restored a few years ago. Visits to Casteldonovan, and free weekly guided walks are on offer throughout the summer (check out our events calendar for details).
Drimoleague is also the starting point for St. Finbarr's Way – one of Ireland's pilgrim trails. This stunning 2-day walk leads you through hills and valleys to the chapel and the lake at beautiful Gougane Barra. Guided tours along St. Finbarr's Way are available throughout the year from West Cork Walking.
After all your exploring, you'll find a warm welcome at the Drimoleague Inn where local food is served.
While you're visiting Drimoleague, arrange a visit to Glenilen Farm where gorgeous yoghurts and butters are made from local milk.
Places to Stay
You'll find a great place to stay at the Top of the Rock Pod Páirc which is quickly building a reputation as the finest place to try glamping in Ireland, and there's lots of other fine accommodation close by.
Drimoleague has a good supermarket where you'll find everything you need for your holiday, and there are lots of great places to eat in nearby Bantry, on the Sheep's Head peninsula, and around Skibbereen.