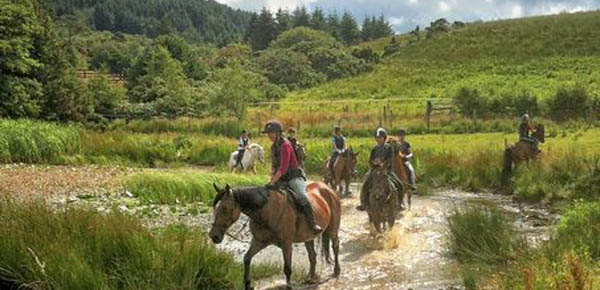 Enjoy pony trekking in Bantry and take in fantastic views over West Cork's bays and hills
Enjoy breathtaking scenery on a pony trekking trail ride through ancient forest to Maggie Murphy's cottage on Hollyhill, just 5 minutes from Bantry.
One of our 20 ponies and horses will look after you as we ride along well-maintained private bridle paths. Children and adults, beginners and advanced riders, young and old, all are welcome.
We provide safety hats and back protectors and one of our experienced helpers will walk with you if you're not used to horses.
Riding in small groups of no more than six means that you will receive our careful attention. There's no traffic to worry about either when you're pony trekking, just plenty of time to enjoy the ride through the ancient Deerpark forest, once part of the Bantry Estate.
We climb gently above the tree line where the hand-built paths cross heather and gorse hillside. More advanced riders can enjoy a canter while the less adventurous enjoy the scenery. Bring your camera because when we reach Maggie Murphy's cottage there are wonderful views down Bantry and Dunmanus Bays.
Many of our visitors return time and again. We have a Horse Sport Ireland Level One coach on staff, and if you need some riding tips we can even arrange lessons in one of our purpose-built all-weather arenas.
All of this within easy reach of the bustling harbour town of Bantry, and the tracks and trails of the Sheep's Head peninsula: a European Destination of Excellence! Pony trekking is a wonderful thing to do while you're paying a visit to beautiful West Cork.
Pony Trekking Reviews
'So friendly, amazing views, and they welcome beginners with open arms…' (Sean and Mallory, Chicago)
'Very welcoming, beautiful scenery, magical venue.' (Trec Ireland)


Location:

Durrus Cross, Bantry, Co. Cork
Price:
Maggie Murphy's Trail costs €25 per rider.
Opening Hours:
Open all year from early to late!
Email:

[email protected]

Tel:
00 353 (0)87 776 5539 [Mobile]
No
Website:
http://bantrybayponytrekking.com
TripAdvisor:
Yes
Google Maps:
Yes

Additional information:
Rides are accompanied by experienced and fully-insured guides.
Riding hats and body protectors are provided.
You should allow 1-2 hours at Hollyhill including the time spent getting to know your pony and for any photos you might like to take.
Facebook:
Yes
Twitter:
@BantryBayPony