Stretching from the Top of the Rock, Drimoleague, to Gougane Barra – a distance of 31 kilometres – this two-day walk follows in the footsteps of Saint Finbarr who visited Drimoleague in the 6th century.
The St. Finbarr's Way walk – Slí Bharra – passes through the village of Kealkill, taking in part of the Carriganass walks on the way.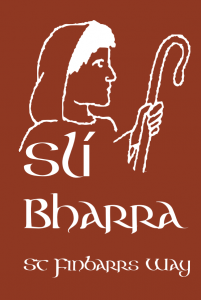 Pilgrims who follow in St. Finbarr's path cross three valleys and four mountain systems before they arrive at Gougane Barra, and they complete the journey by joining the Beara-Breifne Way to complete a steep and spectacular descent, with the hermitage of St Finbarr visible below in its serene lake island setting.
On Easter weekend 2014, the route will be walked by pilgrims taking part in Ireland's first Pilgrim Paths event. For the first time in many years, bands of pilgrims will walk each of Ireland's pilgrim paths simultaneously, reflecting as they walk on the beauty of creation laid out before them.
Places are still available if you would be interested in joining the pilgrims travelling along St. Finbarr's Way.
This is a difficult and challenging walk in places and should not be undertaken in poor weather. Guided pilgrim walks on this route are available at www.westcorkwalking.com. You can purchase the Drimoleague Heritage Walkways book at Centra, Drimoleague for more details.
To shorten the route, you can choose to walk the 'Pilgrim's Way' section only. This involves you walking to Gougane Barra from Carringanass Castle in Kealkill.
The walk has won praise from Carl O'Brien in The Irish Times.