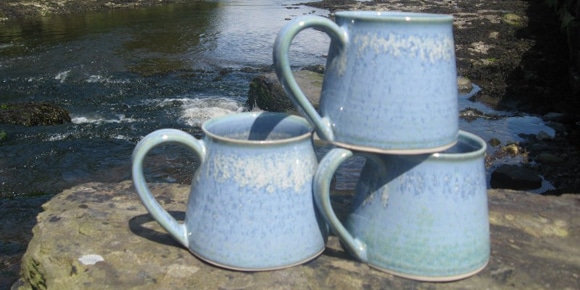 Dunbeacon Pottery is created by Helen Ennis on the shores of Dunmanus Bay, inspired by West Cork's land and seascapes
Our collection of functional pottery combines quality in craftsmanship with inspirational and modern designs. After working and apprenticing in potteries around Ireland, Helen Ennis took over the running of Dunbeacon Pottery in the year 2000.
Helen's vision is to bring well-designed, affordable, functional ceramic tableware to a wider audience. Every single piece of Dunbeacon Pottery is handmade and finished to the highest standard. Visitors are welcome to call to the studio and shop to watch individual pieces being made.
Drawing on inspiration from the surrounding landscape, Helen creates pieces that perfectly capture the essence of Ireland's southwest coastal region. The Ocean Collection evolved from her connection with the ever-changing energy of the Atlantic Ocean. Discovering traces of ancient Irish woodlands in the immediate area inspired the Woodland Collection. Helen's pottery is styled and decorated by hand with a range of natural forms and glazes.


"In my work I strive to make pieces that will be reached for and enjoyed every day for many many years"
Dunbeacon's collections have evolved from simple natural shapes to a comprehensive array of shapes and patterns that fit into every home, offering a wide range of bowls, vases, jugs, mugs, butter dishes and many other unique gift items. The tabletop pottery is both practical, beautiful and dishwasher safe. Each piece is made by Helen with pride and care. The striking Water's Edge is a new addition to the Dunbeacon Pottery collection.
Located in West Cork, 3 miles from the village of Durrus in the direction of Goleen we welcome visitors to come and browse the showroom and watch the making process. A visit to Europe's most south-western pottery is a must when touring West Cork!