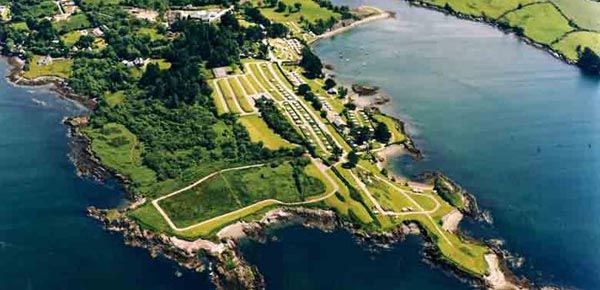 Camping & Glamping[/caption]
Eagle Point Camping is a four-star West Cork caravan and camping site in a gorgeous shoreline location in Ballylickey, near Bantry
The campsite's beautiful location has a safe and sheltered coastline and numerous pebble beaches, making it ideal for water-based activities like boating, wind surfing, sailing, swimming and fishing. An on-site slipway also makes it easy to launch boats and kayaks.
Ballylickey village is stretched along the shoreline between the historic market town of Bantry – near the head of the Sheep's Head peninsula – and Glengarriff: the gateway to the Beara peninsula and Garnish Island.
Eagle Point is just a short walk from Manning's Emporium. Be sure to try the local cheese plate there!
Eagle Point is a great base for anyone interested in walking along the Sheep's Head Way, and the friendly staff here will advise you on bike hire too!
At Eagle Point, visitors will find extensive facilities and a high standard of management. There are 125 pitches, and space for 65 tents and 60 caravans on the 8-hectare site.
The campsite also offers modern sanitation blocks, free hot showers, 6amp electrical hook-up, laundry facilities, a well-stocked supermarket and petrol station. For fun without ever leaving the site, there are also TV rooms, a small playground, tennis court and football pitch.
In the heart of some of the most spectacular scenery in Ireland, Eagle Point Camping is the ideal touring base for discovering the South West. It is within easy reach of Bantry, Glengarriff, Kenmare, and the Sheep's Head and Beara peninsulas.
Dogs are not allowed at Eagle Point.