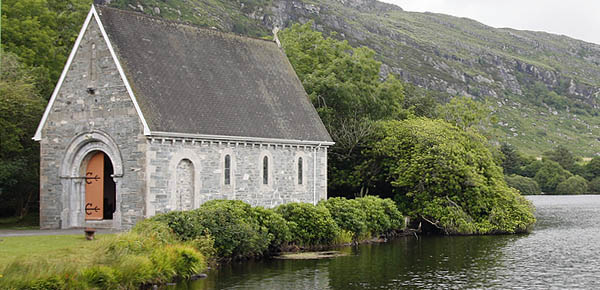 'The church on the lake' at Gougane Barra is one of Ireland's hidden gems.
During your visit, you'll explore the traces of the hermitage at Gougane Barra where St. Finbarr lived. The beautiful chapel built in his memory on a small island on the still lake, known as St. Finbarr's Oratory, is one of the most magical places to get married in Ireland.
The oratory is set against the stunning backdrop of the lake and West Cork's beautiful Caha mountains. It's a wonderful spot to engage with Ireland's fascinating past and gorgeous scenery, and a visit here offers the traveller a moment of peace that will enrich the soul.
While Gougane is a wonderful place for contemplation, it's also a great place to explore on foot or bike because it marks the junction of two of Ireland's major way-marked walking routes: the Sheep's Head Way and the Beara-Breifne Way.
The award-winning Sheep's Head Way and the Beara-Breifne Way meet here, and – even on a short visit – there are a number of short, off-road circular loops for groups to choose from.

There is no admission fee for Gougane Barra. A car parking fee is charged if you drive further into Gougane Barra Forest Park