We're delighted to say that West Cork's Sheep's Head Way was awarded silver in the Best Responsible Tourism Destination category at the Irish Responsible Tourism Awards 2015!
The award recognises our commitment to working together as a community to promote a place we cherish, and sharing it with our visitors in a responsible way.
The Sheep's Head Way, home to a rich network of walking and cycling trails, finished behind Clare's Loop Head peninsula – a fellow European Destination of Excellence – to take silver in the 'Best Responsible Destination' category.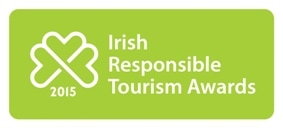 The silver award recognises the work the local community has done to build on the sustainable approach that was employed in the development of the Sheep's Head peninsula's renowned walking route in the late 1990s.
The local tourism co-op – the Sheep's Head & Bantry Tourism Co-operative – has worked hard over the last 2 years to build links between businesses and promote experiences like stone-carving weekends, Wild Atlantic Way cruises, and guided walks that give visitors a real insight into life as its lived 'the Sheep's Head Way.'
The Sheep's Head was delighted to be recognised alongside three other excellent initiatives in West Cork, all hugely popular with visitors to the Sheep's Head Way.
Atlantic Sea Kayaking was named as outright winner of the awards, and now goes on to represent the best of Irish tourism in the World Responsible Tourism Awards 2015. It's a fantastic accolade for the business, which also won a Gold Medal in the Best Adventure Activity Provider for Responsible Tourism category.
Jim and Maria Kennedy who established the business in the mid-1990s offer a range of kayaking trips and courses in West Cork and further afield, and they have always placed a concern for the environment at the core of their activities.
'We're very proud to be picked to represent Ireland, and the kind of work we do here in West Cork on an international stage', says Jim. 'It's great to see a responsible approach being recognised as something that makes tourism better. It's certainly something that helps us give our kayakers and walkers a fantastic experience.'
'We are so fortunate to enjoy and work in one of the most beautiful marine environments in the world. But we know that for others to enjoy this special place, we have to respect and protect it. Every day we're helping our visitors to recognise not just the beauty but the fragility of the marine environments they're exploring.'
Nic Slocum of >Whale Watch West Cork who runs whale- and dolphin-watching tours from Baltimore was also honoured at the awards for Best Tour Operator for Responsible Tourism. As well as helping tourists to better understand marine mammals, Nic is committed to helping other businesses treat the environment respectfully, and has established a comprehensive code of conduct for whale watching that has received many accolades.
The Mizen Head Signal Station Visitor Centre which received silver for Best Cultural Heritage Attraction has been drawing visitors to West Cork with its visitor centre which explores the geology of the Mizen. Its keepers' quarters give an insight into lighthouse life, and the centre's walk to the signal station over the arched bridge showcases the Mizen's stunning scenery with the possibility of seeing seals, kittiwakes, gannets and choughs en route.
'The businesses and destinations being rewarded here have shown a real and long-term commitment to delivering responsible tourism,' says Siobhán Burke – marketing co-ordinator for the Sheep's Head & Bantry Tourism Co-op – who addressed international delegates at the Irish Responsible Tourism conference with a talk on 'Small Business and the Big Picture.'


'Tourists don't necessarily want to know every last detail of how we minimise waste and save energy, but they do care passionately about visiting places which are properly protected and cherished by the people who live there. They want powerful and pure experiences that give them genuine insights into places and communities. That's what we are always trying to provide here on the Sheep's Head Way.'
'It's fantastic that we were all able to take to the stage in Dublin and show that West Cork can provide those experiences for everyone who visits us here. When we work together and share the best of what we love about where we live,' adds Siobhán, 'we're creating the kind of tourism that is rewarding for everyone involved.'
The awards, which were presented at what was Ireland's second annual Irish Responsible Tourism conference, look set to become a key fixture in Irish tourism in the years to come.
For more information about the awards, see http://icrt.ie, or contact Siobhán Burke (086) 3030991 to find out more about the Sheep's Head Way (https://livingthesheepsheadway.com)