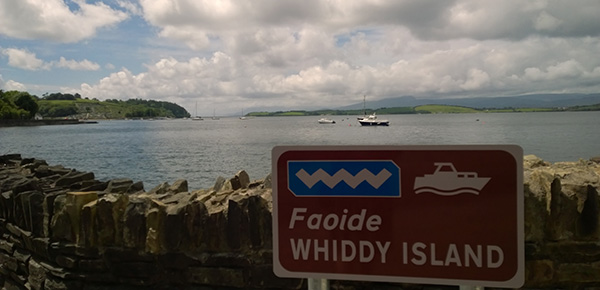 Get a real taste of Ireland on a walk and whiskey tour of Whiddy Island!
Take the short ferry trip from historic Bantry, and islander Tim O'Leary will share the secrets of the West Cork island's past.
On your guided walk, you'll encounter traces left by previous generations, from Martello towers to the old schoolhouse. Then we'll head to Whiddy's Bank House pub to sample the distinctive flavours of Ireland's exciting new single malt, single cask whiskies.
Guided Walk Through Whiddy's Past
The short ferry ride offers you wonderful views of Bantry Bay and Bantry House as you sail to Whiddy Island – sheltered by the beautiful mountains of the Beara peninsula to the north and the Sheep's Head peninsula to the south.
Whiddy is one of seven inhabited West Cork islands, and it has a fascinating story to tell. Your guide, Tim O'Leary will share it with you as you discover the traces of its history that remain to this day in the form of Martello towers, a gun battery, and other historic sites.
Enjoy Great Irish Whiskey At a Bank House Tasting Session
After your walk, retire to Whiddy Island's Bank House pub where Liquid Curiosity's Jaq Stedman will take you on a kind of whiskey tour, introducing you to the distinctive flavours of Ireland's exciting new whiskies. You'll have a wonderful time trying the best single malt, single cask whiskies Ireland has to offer.
We'll begin with Dingle Single Malt – this is Ireland's first new whiskey to come of age in almost half a decade. During a fascinating tasting session, we'll try five exceptional single malt Irish whiskies matured in different types of casks. Even better, you'll match their great flavours with some of West Cork's fine local artisan produce to complete this delicious experience!
Group Tour Details
The tour takes 4.25 hours, including ferry trips. The island walk takes about 2.5 hours and it will take place over mixed terrain so good shoes are required. The walk will finish at The Bank House pub where you'll enjoy your whiskey tasting session before you return to Bantry. The ferry journey takes approximately ten minutes each way.
The walking route is accessible to anyone who is used to walking regularly.
Bookings
Advance booking is essential, and we are happy to help make plans for private groups, tour operators and West Cork cruise tours. Either choose a scheduled date on our event calendar, or contact us to arrange a bespoke guided tour.
The 'Walk and Whiskey Tour' fee (€35) includes your ferry trip to Whiddy Island, a guided walk, and your whiskey tasting session.
Contact
For more details, contact Siobhán Burke on 086 303 0991 or email