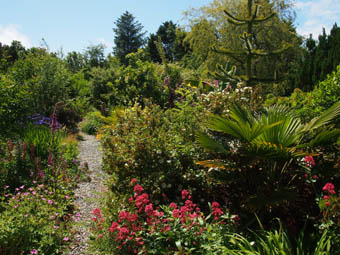 Throughout the year, Ballycommane Garden near Durrus offers an array of colour
This lovely West Cork garden features an abundance of flowers as well as a huge variety of mature shrubs and trees. From the ancient boulder-burial site, there is a breathtaking view over the broad valley of the Four Mile Water (Ballycommane River).
You'll see sheep grazing peacefully on the green hillsides, a clear sign that you're on the Sheep's Head Way, one of Ireland's best-loved walking routes.
Visitors to Ballycommane Garden enjoy the colourful display the garden offers whenever they decide to visit.
There's lovely established hedging throughout the grounds. The cover provided by the extensive foliage has created tasteful, secluded areas for private contemplation in this lovely West Cork garden. We invite you to walk around, sit down, relax and escape the pressures of everyday life.
Ballycommane, which is located near Durrus, also offers lovely B&B accommodation.
Enjoy visits to a range of wonderful West Cork gardens close to Ballycommane!
Location:
Ballycommane, Durrus, Co. Cork.
Entrance Fee:
Opening Hours:
Call for details.
Tel.
353 27 62799

Email
Email:
:

[email protected]

Website:
http://ballycommanehouse.com/
No information currently available.
TripAdvisor Reviews
No
Google Maps:
Yes

Latitude: 51.63577
Longitude: 9.47941
Facebook: