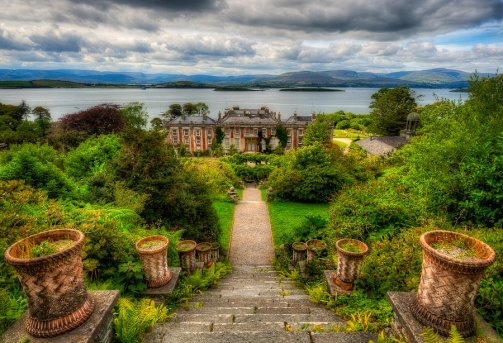 Take a tour of Bantry House, an exquisite Irish stately home and gardens, still owned by descendants of the original Earl of Bantry who built the house in the mid-1700s
The house's story is, as you'll discover, closely interwoven with Irish history. Richard White, Earl of Bantry ensured – with the help of some fierce storms – that Theobald Wolfe Tone and the United Irishmen could not complete their plans to invade from Bantry Bay in 1796. Centuries later, the house was one of the few Irish stately homes to survive the War of Independence.
Bantry House provides a gracious setting for the many stunning artefacts which the family has collected from across Europe over the centuries. Meanwhile, the extensive landscaped gardens offer breath-taking views across Bantry Bay. Few visitors resist the temptation to climb the garden's steps to gain a stunning perspective on this elegant and welcoming historic house.
Self-guided tours of the house and gardens are available, and guided tours with the owner, Sophie Shelswell-White can also be arranged (see below for details). A café is open here during the summer months.
Location:
Bantry, Co. Cork
Opening Hours:
Open Tuesday to Sunday. Closed Mondays.
Winter Hours:
Closed from October-March 2015.
Admission Fee:
Visit the Garden
Garden: €5
Annual Garden Passes: €10 and €30

Visit the House and Garden
Adults: €11
Concessions/Groups: €8
Groups (20+): €7
Family Tickets 2 Adults 2 Children: €26
Child 6 -16 years old: €3
Child under 6 years old: FREE
All the above are self-guided options

Guided tour 2pm Tuesdays: €15 per person (includes self-guided visit)
Website:
http://bantryhouse.com
Tel.
00 353 (027)50047
Email:

[email protected]

Credit Cards:
Yes
TripAdvisor Reviews:
Yes
Google Maps:
Yes
The House and Garden is partially wheelchair accessible with most of the formal garden to visit on gravel or flagstones. The house has the ground floor which consists of the halls, 2 drawing rooms featuring furniture and tapestries from Versailles, the Ante Room and dramatic Dining Room. We do not have a lift and there are 2 full flights of stairs and then half flight going to the library and bedrooms.
Facebook:
Yes
Twitter:
@BantryHouse