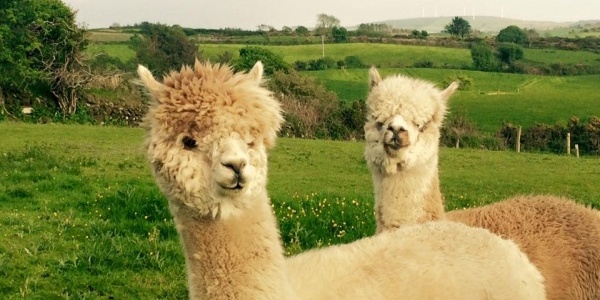 Visit Waterfall Alpaca Farm where these gorgeous animals love nothing more than a stroll around our West Cork trails!
Nestled in the heart of West Cork, Waterfall Alpaca Farm is steeped in history. Just a short stroll from Castledonovan, and with its own Bronze Age Stone Row, this welcoming farm is a haven of peace and tranquillity.
Children love to visit the farm's very special animals. We have a small herd of alpacas, some Soay sheep, rescued rabbits from dwarf to giant, two miniature donkeys, hens, ducks, cats, and dogs.
We are great nature lovers and are passionate about animal welfare. We use no chemicals on the farm and do as much work as possible by hand.
As you explore the farm, you'll encounter lots of the local wildlife species. Badgers, foxes, hare, pheasant, herons, dippers, and a multitude of songbirds all call the Waterfall Alpaca farm their home. If you are very lucky, you may even spot our beautiful otters!
The Alpaca farm's loop walk runs along a beautiful river (a tributary to the River Illen). You'll walk past deep pools and babbling cascades, under old 0ak and holly trees and past the spectacular waterfall that gave the farm its name.
It's a gorgeous place for families to visit at any time of year, but it's especially beautiful when the bluebells are out in May.
We strongly believe in giving people access to the countryside and get immense pleasure from sharing our lovely farm and creating wonderful memories for people young and old.
Walk an Alpaca at the Waterfall Alpaca Farm
Guide an alpaca along winding paths, past streams, and our lovely waterfall. The alpacas are curious and intelligent animals who love exploring the walks with you!
The trail, which takes about 40 minutes to complete, runs past fields and young forestry with gorgeous views. We'll pass the river, as it meanders past under a canopy of old oaks. And the stunning waterfall is a sight to behold.
Before we begin, you'll have the chance to meet the farm's other residents. The sheep, donkeys, hens, and ducks, as well as the dwarf and giant rabbits love company! We'll also meet the female alpacas (we walk the boys) and learn a bit about them and their fascinating history .
Why not bring a picnic for after the walk and enjoy the rest of the afternoon in these gorgeous surroundings?
| Location: | Castledonovan, Drimoleague, Co. Cork |
| --- | --- |
| Price: | €30 per person |
| Opening Hours: | Open all year on Sundays from 10-4. Booking advised! |
| Email: | [email protected] |
| Tel: | 00 353 (0)28 31953 |
| | Unfortunately not. |
| Website: | http://westcorkalpacas.com"> |
| TripAdvisor: | Yes |
| Google Maps: | Yes |
| Additional information: | If you'd like to bring a group to the Waterfall Alpaca Farm, just let us know and we'll be happy to arrange that for you! |
| Facebook: | Yes |
| Twitter: | @waterfallalpaca |