The Farranamanagh loop walk is a coastal trail that leads you from Kilcrohane village out along the edge of the Sheep's Head peninsula
From The Old Creamery in Kilcrohane, walk in a northeasterly direction back up the peninsula following the red arrows and main Sheep's Head Way 'yellow man' markers.
At marker no. 404, turn right off the main public road entering farmland. Continue on downhill to Farranamanagh strand and lake, walking beyond these and on uphill on rough ground beyond the Bardic School.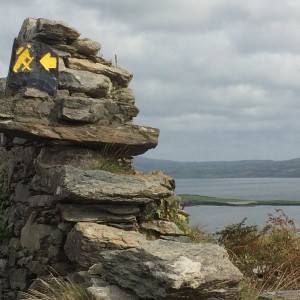 The school was home to O Dalys – chief poets to the O Mahony clan – and it was here on the coast of the Sheep's Head peninsula that they passed the Irish poetic tradition from generation to generation.
Continue on to meet the main public road, turn left and you will arrive at Dromnea car park, way marker no. 425.
Here you can return directly to Kilcrohane village via the public road or continue on the loop by climbing the old stone stile to the left of the gate across the road.
Continue on uphill until you reach way marker no. 92 on the old Kilcrohane/Ahakista road. Continue straight on again until you reach way marker no. 01, veer left here for Kilcrohane, and continue on again in a southwesterly direction.
At way marker no. 10 follow the road down until you meet the main road. Take a right turn here and the main road will lead you back to Kilcrohane village, where a bite to eat at The Old Creamery will be a welcome reward for your walk!
The Farranamanagh Loop Walk is one of 20 loop walks along the Sheep's Head Way Walking route on Ireland's southwest coastline.
| | |
| --- | --- |
| Download GPX file for GPS | GPX file for Farranamanagh loop walk |
| Download to View in 3D on Google Maps: | KMZ file for Farranamanagh loop walk |
| Start/Finish: | Kilcrohane trailhead. |
| Grade: | Moderate |
| Distance: | 6.1 km (approx) |
| Estimated time: | 2 hrs 15 mins (based on average walking speed of 3 km per hour) |
| Arrows: | Red |
| Metres Climbed/ Ascent: | 236 metres |
| Maximum Height: | 110 metres |
| Dogs Allowed? | No |
| Minimum Gear: | Walking boots, rain gear, fluid, and a mobile phone. |