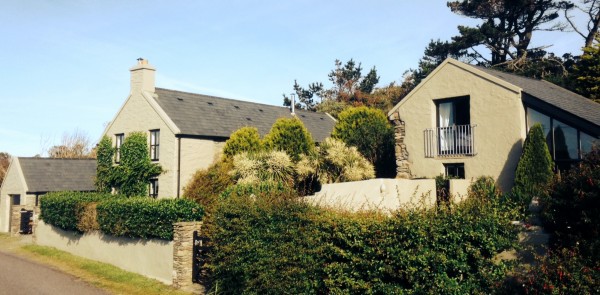 LAHARANDOTA, the Artists' Cottage & Studio, is a luxury holiday home nestled on the hillside of the Sheep's Head peninsula
The Artists' Cottage is surrounded by a large, private garden with wonderful sea views, and it features a stream, pond, and small outdoor pool. A lovely barbeque and patio area is equipped with garden furniture. Inside there are three bedrooms (a double, twin, and a single), downstairs loo, family bathroom, en suite shower room, open-plan kitchen/living room, study with sofa bed, and sun room.
This exquisite luxury West Cork holiday home is an architect-restored traditional cottage made from stone, slate, and timber in keeping with its rugged natural setting. The farmhouse loft adjacent to the cottage has been renovated to form the studio and it can be booked to provide additional self-contained accommodation for up to 4 guests.
The stunning Sheep's Head peninsula is set between Bantry and Dunmanus bays, and the cottage has wonderful views over Dunmanus Bay and the neighbouring Mizen peninsula.
From the stony heights of Seefin Mountain to rolling pastures and sea cliffs, the peninsula offers great land- and seascapes. Laharandota is just 2 miles from the southern end of the peninsula, and there the Sheep's Head Lighthouse clings to its jagged tip, 400 feet above the surf. Take a moment to soak in the balmy (yes, balmy!) breezes: the Gulf Stream nips Ireland along this coast, explaining the presence of palm trees in the cottage's garden.
Local Walking Trails and Activities
Stroll down the lane from the cottage directly onto the Sheep's Head Way, one of Ireland's 31 waymarked ways (marked trails). The peninsula's natural wild beauty makes its 88km trail an exhilerating challenge for all keen walkers.
There are wonderful loop walks all around the area, and riding, cycling, sailing, kayaking, shore fishing, and food tours are all available close by too. On a quieter day, you'll enjoy discovering the wonderful galleries and craft workshops that feature in the local craft trail.
You'll enjoy a wonderful holiday when you spend time at the Artists' Cottage, and, like many of our visitors, you'll be tempted to return year after year!