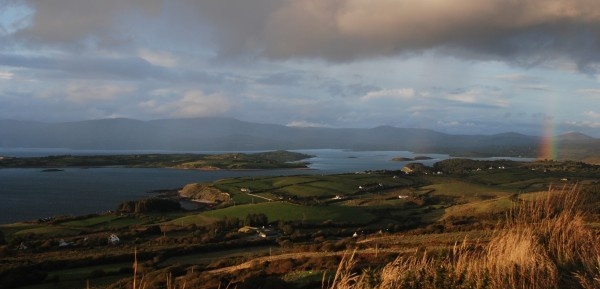 The first section of the Sheep's Head Way walking route leads you out onto the ridge of the Sheep's Head peninsula
Set out from Bantry town along small lanes and fields to the first ridge section on the Sheep's Head peninsula, a European destination of excellence.
Distance: 7.3km
IV 99318 48463
The Sheep's Head Way starts in Wolfe Tone Square, Bantry. With the square and the statue of St.Brendan the Navigator (Naomh Bréanainn) behind you, looking towards Bantry Bay, take the N71 road that runs along the south (left) side of the bay. On the right, at the start of the quay is the Sheep's Head Way information board and map. Post 001 is attached to a telegraph pole. Opposite, next to the road by the Cinemax cinema is the gatehouse to Bantry House. Go through the gate and follow the drive up to the house.
IV 98756 48181
Pass the house on either side. Just after the house turn to the right, down through the car park and leave through the main gates. The route from the west ends here – be sure to leave through the main entrance, and not through the gardens, or you will be heading off in the wrong direction! If Bantry House is closed, just stay on the main road to 006.
IV 98387 48153
Between a boatyard and a previous gatehouse for Bantry House, turn left into the grounds of the West Lodge Hotel. Follow the path past the ponds and up through the grounds and exit by the main entrance in front of the hotel car park. Cross the busy main road, turn to the left and at marker 5 take the first turn on the right signed 'Dromclogh'. Follow this small road and you will soon be away from the hustle and bustle of the town.
IV 97650 47712
Turn left onto a smaller road which soon turns into a track and at 8 goes over a stile and along the edge of a field.
IV 96980 47366
Lady's Well is still a place of local pilgrimage. From here follow the posts across the corner of a field and over a ladder stile onto a road. Follow this road to the T junction at 22 and turn left.
IV 95607 46494
Turn left onto the larger road and go carefully around the bend (I suggest you keep on the left to be seen).
Turn up the small road which will take you steeply up round many sharp bends to the ridge. On the way take a look back as there are several ring forts to be seen and there are good views over Whiddy Island and Bantry Bay.
V 95053 45240
The next section of the Sheep's Head Way leads along the ridge to Glanlough.