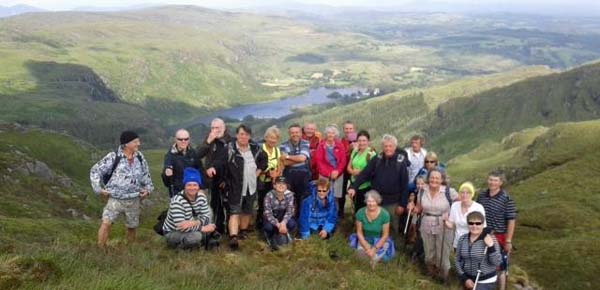 Over the Easter weekend, a band of modern pilgrims traced St. Finbarr's footsteps, walking from Drimoleague to Gougane Barra
It was part of a national event which saw walkers take to Ireland's 15 pilgrim paths on the same day.
The West Cork group of 40 walkers, pictured at Carriganass Castle, Kealkill, followed St. Finbarr's route from 'the Top of the Rock' in Drimoleague. It was there that St. Finbarr instructed people to return to Christ before beginning his own journey over three mountain systems and four valleys to the spot where he established his hermitage at Gougane Barra.
Pilgrimage is, of course, one of the oldest forms of travel, and the popularity of camino walks elsewhere has led to their revival in Ireland too. In 2008, the practice of walking St. Finbarr's ancient route was revived, and the walk he took now forms an extension to the much-loved Sheep's Head Way walking route.
The Top of the Rock Walking Centre in Drimoleague has been established as a base for West Cork's walkers, and it was from there that the modern pilgrims set out, following St. Finbarr's path enjoy the changing terrains and spectacular views available on the 22-mile (35km) route. A rich archaeological landscape is combined with interesting folklore on a route that passes historic Carriganass Castle, stone circles and other ancient monuments before reaching its destination.
The walk's leader, David Ross, of the Top of the Rock Walking Centre, believes that the spiritual aspects of the walk are often the most rewarding for people who follow St. Finbarr's Way: ''The contemplation, the seeking and the finding, the camaraderie of other "pilgrims" and the pains and aches at day's end… All these make St Finbarr's Pilgrim Way a special experience', says David.
Find out more about St. Finbarr's Way at https://livingthesheepsheadway.com/st-finbarrs-way.