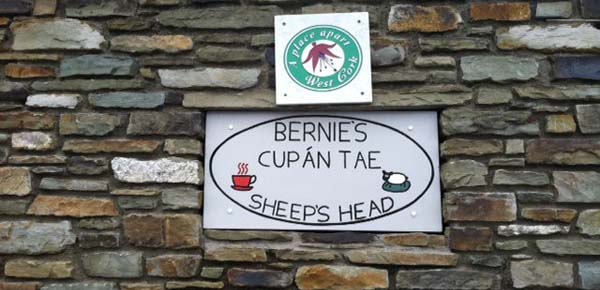 The Cupán Tae has been dubbed 'the tea shop at the end of the world', and it's the last spot to catch a cup of tea before you walk on to the lighthouse at the end of the Sheep's Head peninsula
We don't meet anyone who's visited the Sheep's Head who hasn't got a good word to say about the Cupán Tae. It's an important part of every visit to the peninsula.
Bernie Tobin has been running a tea shop at Tooreen where the road ends on the Sheep's Head peninsula for many years. The Cupán Tae began life as a prefab, and Bernie served hot drinks and homemade scones to grateful walkers. The tea shop Bernie runs there now still serves scones, legendary salmon sandwiches, and wonderful apple pie to people returning from the Lighthouse Loop Walk, or setting out on the return journey along the Sheep's Head Way from Bantry.
At the Cupán Tae you'll find walkers taking a well-earned rest, drivers enjoying the scenery of Ireland's Wild Atlantic Way, and cyclists, all gathered for a hot drop.
The views here at Tooreen are spectacular, and a walk out on the Lighthouse loop walk is highly-recommended.