If you only take one loop walk along the Sheep's Head Way, then take the lighthouse loop walk
It's an exhilarating walk out to the very tip of the Sheep's Head peninsula where you'll get to take in stunning views over West Cork's bays and peninsulas.
The Sheep's Head Way is an 88km walking trail along the coastline of Ireland's Sheep's Head peninsula – a European Destination of Excellence – and the lighthouse loop walk is one of the best ways to experience the trail for experienced hikers and day trippers alike.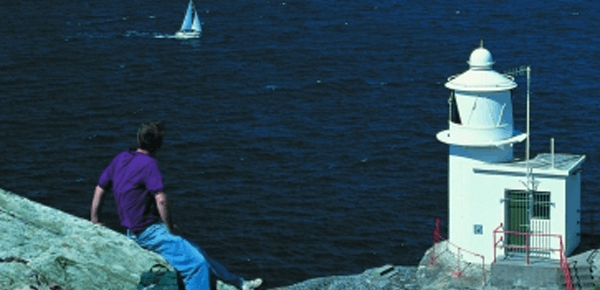 Lighthouse Loop Walk Details
To begin your walk, drive down the Sheep's Head peninsula until you reach the Cupán Tae tea shop. The road on the peninsula ends here at the Tooreen trailhead where your West Cork walk begins.
From the car park at Tooreen follow the blue loop walk arrows. Set out in a southwesterly direction on the Dunmanus Bay side of the peninsula. Your route leads you past rocky outcrops and Lough Akeen and brings to the lighthouse at the tip of the headland.
After the helicopter pad, the Sheep's Head lighthouse comes into view and if you wish you can climb the concrete steps that lead up to it!
If you carry on around the peninsula's north side, views open out over Bantry Bay and there are some spectacular sea cliffs alongside the trail.
The loop – one of 20 loop walks on the Sheep's Head Way – returns on the Bantry Bay side and at the Daingean (fort) sign near waymarker no. 272, veer right here off the main route which leads you back to the Bernie's Sheep's Head café and the car park at Tooreen.
Note: Be aware of weather conditions, unprotected dangerous cliffs and cut away peat bogs along the loop walk. Please do not exit marked trails only on marked routes. No dogs are allowed on The Sheep's Head Way.

No trip to this walk is complete without a pause at Bernie's Cupán Tae!
Download GPX File for GPS:
Lighthouse Loop Walk file for GPS
Download file for 3D view in Google Earth:
KMZ file for Lighthouse Loop Walk
Start/End Point;
Car park at the end of the road on the Sheep's Head peninsula.
Difficulty:
Moderate
Length:
4.2 kilometres
Time:
1.5 hours (approx)
Arrows:
Blue
Metres Climbed:
304 max.
Height:
185m
Terrain:
Footpaths, tracks and paved lanes. Steps down to the lighthouse, and close to cliffs.
Facilities:
The walk begins and ends at the Cupán Tae tea shop.
Car park and toilet facilities are available here.