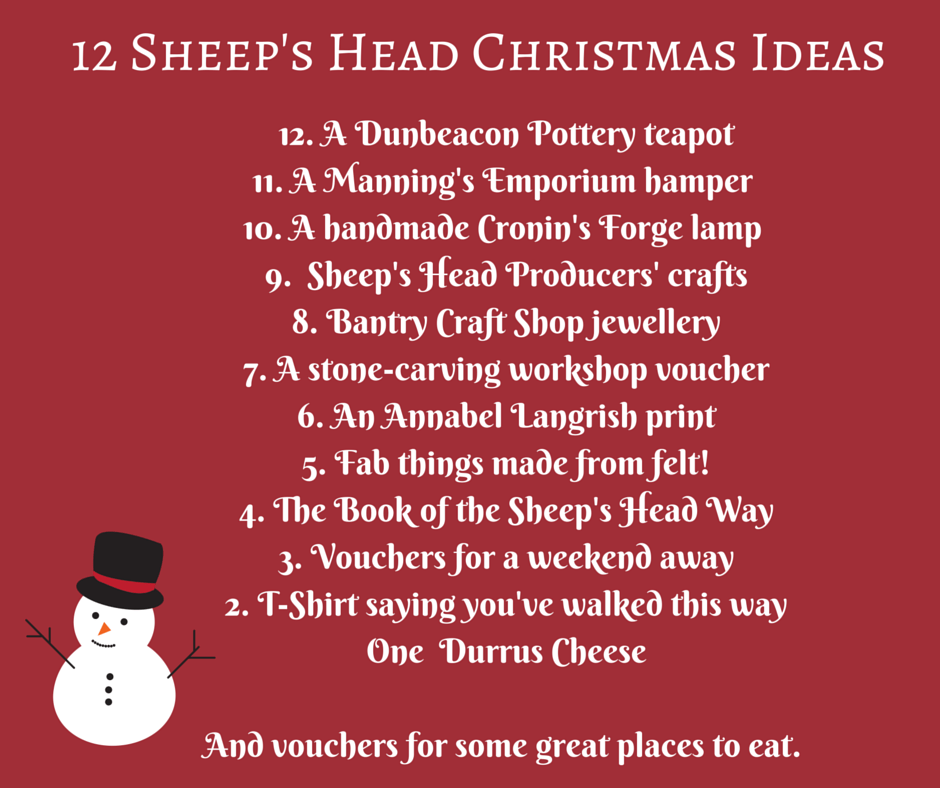 In a bid to help you put a bit of Sheep's Head cheer into your Christmas, we've compiled a list of ideas for Christmas gifts with a Sheep's Head twist!
12. A Dunbeacon Pottery teapot
11. A Manning's Emporium hamper
10. A handmade Cronin's Forge lamp
9. Sheep's Head Producers' crafts
8. Bantry Craft Shop jewellery
7. A stone-carving workshop voucher
6. An Annabel Langrish print
5. Fab things made from felt!
4. The Fish Kitchenps-head-way-book/">The book of the Sheep's Head Way'
3. A weekend away in a great place to stay
2. T-Shirt saying you've walked this way
One Durrus Cheese
And vouchers for some great places to eat.

This is so far from being an exhaustive list, but we hope we've sparked your imagination!
Vouchers for The Fish Kitchen, Arundel's, The Old Creamery, or The Brick Oven make lovely presents. Special offers are available for stays at The Maritime, or The Westlodge, and a booking at one of the great places to stay along the Sheep's Head Way is sure to bring a smile to the faces of your nearest and dearest well into 2016.
The promise of a commissioned painting from Danny Smith or Fiona Power would make a wonderful surprise on Christmas day too.
Wishing you and yours a wonderful Christmas from all of us here along the Sheep's Head Way!