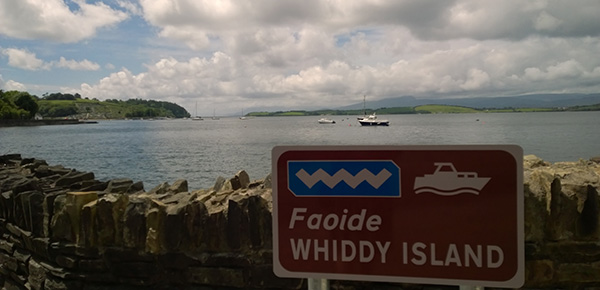 Explore Whiddy Island as you and your friends compete to win the West Cork island's treasure hunt crown!
A short boat ride from the historic town of Bantry, Whiddy Island boasts spectacular views across Bantry Bay and the Sheep's Head and Beara peninsulas.
Work together to uncover traces of the island's story and Ireland's too. This fun, energetic outdoor activity offers you the perfect way to discover the secrets of Ireland's Wild Atlantic Way!
Explore West Cork's Whiddy Island
The small island – home to just 20 people – is nestled in Bantry Bay. It boasts spectacular views back across the bay and the Sheep's Head and Beara peninsulas. Whiddy has a surprising past – at every turn on your treasure hunt you'll find traces of historic events and the characters who've helped shaped Ireland's story.
Team up with friends and compete against the clock to complete the challenges you're given. You'll soon be immersed in tracking down geocaches along the island's walking trails, pitting your wits against questions about the island's heritage, and learning about Whiddy's beautiful environment.
When you find your way back to The Bank House Bar, we'll tally the scores to find out which team will emerge triumphant before you take the short ferry ride back to Bantry.
This is a great way to bring together people from every part of your life and involve them in a fun and energetic adventure as part of your hen weekend. Once everyone has got to know each other exploring one of the hidden gems of the Wild Atlantic Way, you'll have worked up an appetite for the celebrations to follow!
Group Tours: Arrangement Only
The Whiddy Island Treasure Hunt is designed for group tours (min. 8 people – max 50) and must be arranged in advance. We'll tailor the tour to suit the time you have available and your group's interests.
Fitness and Equipment
The route involves small moderately steep stretches of local walking trails, but visitors can choose to avoid these in favour of more accessible trails. The treasure hunt makes use of the Whiddy Island Sheep's Head Way loop trail. Visitors will need to be able to walk 5k easily.
Sturdy shoes or boots and a waterproof coat are advisable. Each group should also carry a mobile phone.
Price – Booking Details
€25 per person, including your 10-minute ferry trips to Bantry and back (Tour – min. 2.5 hours inclusive). Lunch options, and tea, coffee and scones can be added to your bespoke package.
To arrange your tour contact Siobhán on 086 303 0991 or email [email protected]