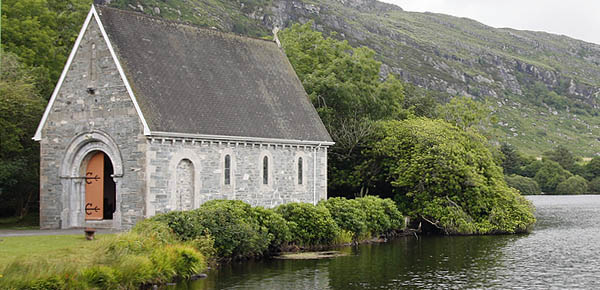 In search of Eden for your wedding or honeymoon? Then you'll find it along West Cork's Sheep's Head Way
Travel to West Cork's unspoilt Sheep's Head peninsula – a European Destination of Excellence – and enjoy time together in a place that offers romantic moments, adventure, and memories to treasure …
There are fantastic wedding venues to choose from – Gougane Barra and its lovely hotel, Bantry House, Blairscove House and the Maritime and Westlodge hotels too. You'll find perfect places for your 'day after celebrations' on Whiddy Island and at Arundel's By the Pier.
And there are lots of gorgeous romantic ways to spend time in the area too.
Cycling the Sheep's Head Way
If you have a taste for adventure, cycling is the ideal way to explore Ireland's coastline at a leisurely pace and taste its pure salt air. And the Sheep's Head Way cycling route is the perfect place to start. Choose between traditional bikes and electric versions which give you more time to enjoy the view (bikes can be delivered and collected from your departure point or accommodation). Visit heritage sites and take a local picnic, or stop for lunch in the excellent pubs and cafés along your route.
Sailing on Merlin
For a touch of luxury, spend a day on a luxury yacht, exploring West Cork's bays on board Carbery Sailing's luxury Hallberg-Rassy yacht, Merlin.
Take your turn at the helm, or simply sit back and watch out for the dolphins and minke whales that populate the pristine waters of Bantry and Dunmanus bays.
You can extend your trip to enjoy a bit of West Cork island-hopping too!
Pony Trekking on West Cork's Coastline
Take a trail ride through ancient woodland to Maggie Murphy's cottage, and you'll be rewarded with stunning views over West Cork's Atlantic coastline. Ride with Bantry Bay Pony Trekking's experienced guides, and you'll get careful attention and support, as well as fantastic photo opportunities!
You'll climb gently above the tree line where the hand-built paths cross heather and gorse hillside. Enjoy a canter, or simply take in the sights and sounds to be had in this unspoilt landscape. When you reach Maggie Murphy's cottage there are wonderful views down Bantry and Dunmanus bays.
Kayaking
Kayak on the peaceful and sheltered waters of West Cork's Dunmanus Bay and explore the scenic coastline of the stunning Sheep's Head peninsula. Take a relaxing paddle and discover the scenery and wildlife of Ahakista's harbour, or explore the islands and inlets along the peninsula's coastline, and you'll be making memories to treasure.
Walking the Sheep's Head Way
The famous Sheep's Head Way walking route leads you along the coastline of the Sheep's Head peninsula to the lighthouse at its tip. Look out for dolphins as you walk, and take in views over the Mizen and Beara peninsulas, as well as Bere Island and Whiddy Island.
Whichever path you take, and whether you walk alone or have the company of a Sheep's Head Way walking guide, you'll find yourself inspired by the beauty of Ireland's Wild Atlantic coastline.
As you walk, you'll discover traces of Ireland's past from holy wells to megalithic tombs. You can even take an early opportunity to renew your vows by joining hands through the ancient marriage stone at Caherurlagh.
Bantry House and Gougane Barra are among the most prestigious West Cork wedding venues, but they're great destinations for a romantic honeymoon day out too!
Places To Stay
If you've opted to get married at Bantry House or the chapel on the lake at Gougane Barra, or if you're escaping to Ireland for your honeymoon, you'll be looking for somewhere fabulous to stay.
Choose the manor house experience at Seaview House Hotel or the stately home elegance of Bantry House. Opt for peace by the lake at the cosy Gougane Barra Hotel, or escape to Blairscove House & Restaurant, on the shores of Dunmanus Bay. Blairscove has just won Georgina Campbell's 2015 award for 'outstanding guest experience', and it's a haven for honeymooners.
The boutique B&B at Gallán Mór on the Sheep's Head peninsula is building a reputation as a fabulous place for romantic retreats (and its garden hot tub has to be experienced!).
Luxury self-catering options are available at Blairscove House, Gallán Mór, Carbery Guest Lodge, and Ahakista Escape.
There are lots more great places to stay, and savour the flavours of the Sheep's Head Way too.
If you're looking for more ideas for your West Cork honeymoon, we'll be delighted to matchmake you with some great experiences!
Contact Siobhán on 086 303 0991 / [email protected] for great travel tips!