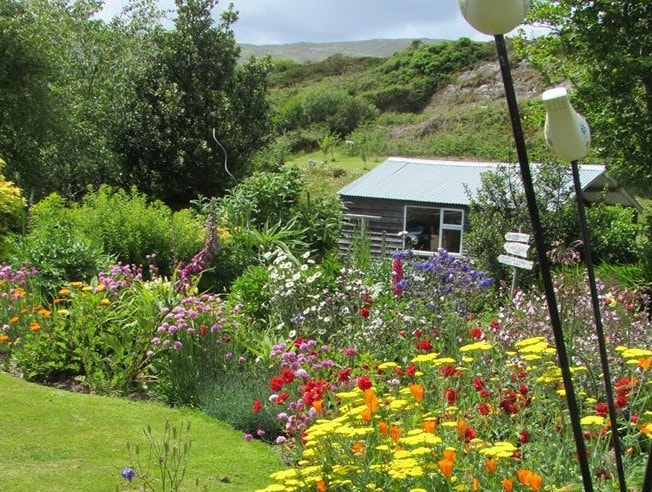 West Cork gardens are shaped by great imaginations and the Gulf Stream climate
We're able to grow an extraordinary range of plants by our Atlantic coastline thanks to the warmth the Gulf Stream brings. The lovely mild climate we experience all along the Sheep's Head Way walking route – on the Sheep's Head peninsula itself and in the more sheltered areas inland – is taken advantage of by our innovative gardeners.
They show great ingenuity, whether they're working on grand estates or in smaller idylls, each with their own unique character. There are wonders to be found all along the Sheep's Head Way for anyone with a passion for plants and the beautiful environment we're blessed with here in West Cork.
Variety and Ingenuity Combined
Explore the terraced West Cork gardens at Bantry House, and climb the steps to look out across the house, its gorgeous grounds, and Bantry Bay. And call to meet the gardeners who bring extraordinary colour and variety to plots across West Cork's Sheep's Head peninsula at Ballinvillon, Ballycommane, Heron Gallery and Carraig Abhainn.
Visits to the lovely gardens on the Sheep's Head peninsula are truly rewarding. And the tearoom at Bantry House and the café at Heron Gallery give you the perfect excuses to treat yourself while you're on tour!
Our West Cork gardens are close to the mountain trails and cliff-top walks of the Sheep's Head Way, and, while you're visiting the area, you'll enjoy the chance to see our creative craftspeople at work too. There's creativity in evidence at every turn here, as you'll soon see!
See the full list of our Sheep's Head gardens here!
Explore even more West Cork gardens when you set out on the West Cork Garden Trail!