A Sheep's Head Craft Tour is a great way to explore a place that's home to a creative community of artists and craft producers
They're inspired by our unspoilt landscapes, our wild seascapes, the people who live here, and the extraordinary quality of West Cork's light
Take a self-guided craft tour, or join a Meet the Makers event (bespoke and scheduled craft tours) to meet the people the Sheep's Head inspires.
You'll find traditional skills brought to life by contemporary talent. And, if you find your own spark of inspiration along the way, there are some wonderful craft courses on offer to bring you back for another longer stay …

1. The Craft Shop in Bantry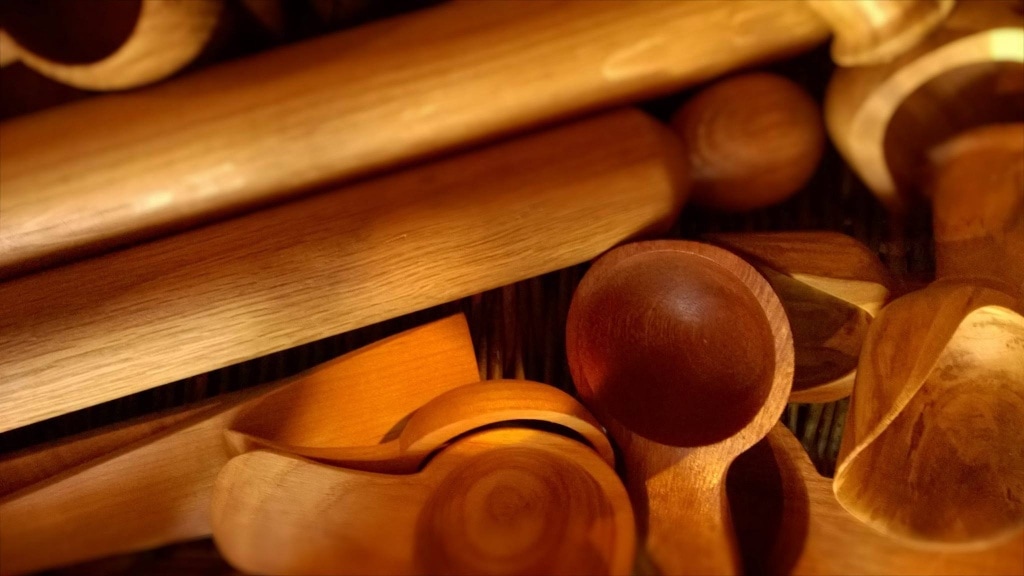 Begin in Bantry with a visit to The Craft Shop on Glengarriff Road, a cosy home to some truly covetable jewellery, pottery, and bags created by craftspeople in West Cork and beyond. Decorative pieces and useful objects to treasure are gathered together here.
[Open year-round]


2. Dunbeacon Pottery (near Durrus)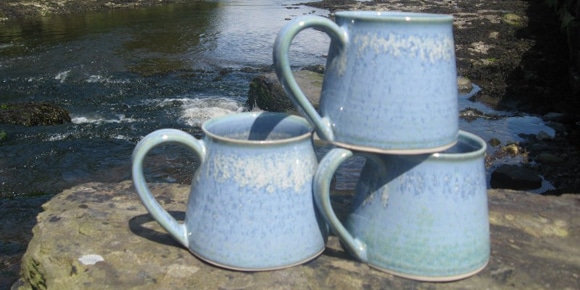 From Bantry, make your way to Dunbeacon Pottery, on the Mizen side of Durrus, and you'll find Helen Ennis at work in her studio creating pottery in a range of forms and glazes that reflect the colours of the changing sea and the coastal landscape.
Helen's Ocean Collection evolved from her connection with the ever-changing energy of the Atlantic Ocean, and you'll discover traces of local ancient Irish woodlands in Dunbeacon Pottery's Woodland Collection.
Watch pots being thrown, and spend some time deciding which lovely things you're going to bring home with you as an inspiring reminder of the time you spent living the Sheep's Head way …
[Open year-round]


3. Cronin's Forge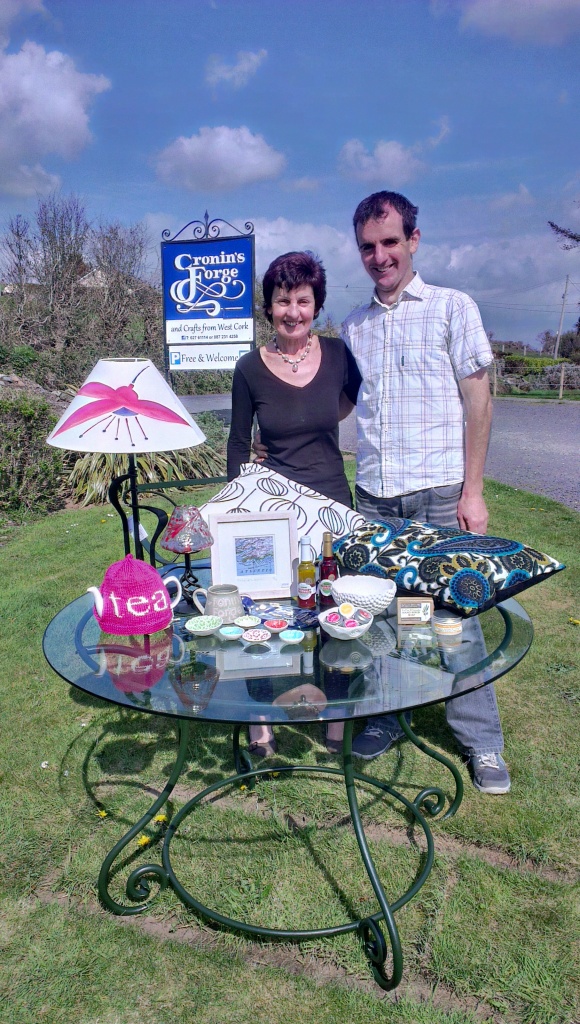 Across the water from Dunbeacon Pottery, you'll find Brian Cronin at work at Cronin's Forge. The Cronin family have been working with iron on the shores of Dunmanus Bay for generations.
Brian reflects the landscape, history, and traditions of West Cork in fluid, Celtic-inspired designs that take the shape of beautiful lamps, fire irons, and even tiny toasting forks, as well as larger pieces.
The shop at Cronin's Forge is also home to craftwork produced by a handful of talented West Cork artists working in a wide range of decorative forms from painting to glasswork.
[Open year-round]


4. Fiona Power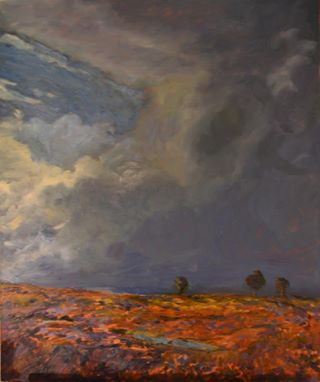 Cronin's Forge is one of the places you'll find the work of artist Fiona Power who is well-known internationally for her unique and emotional treatment of seas and landscapes.
Her atmospheric paintings capture the moods of West Cork's ever-evolving skies and surroundings.
Fiona's paintings can also be purchased from her website at http://postcardsfromwestcork.com
[By appointment]



5. Heron Gallery, Ahakista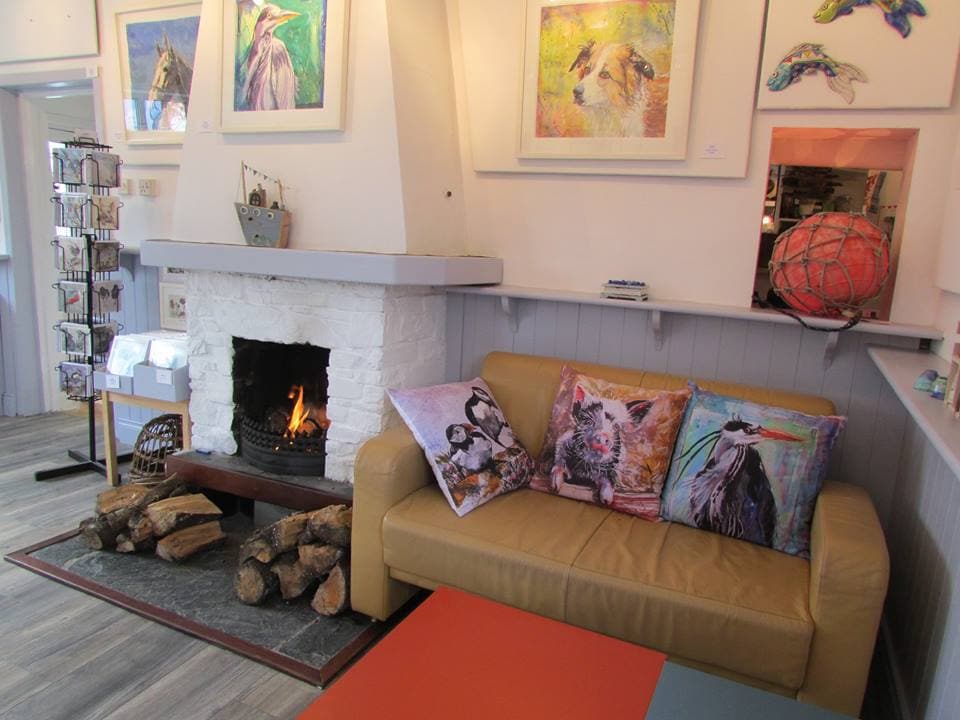 All of this exploring is hungry work, and there's no better place to stop for a bite to eat and more inspiration than the Heron Gallery in Ahakista. It's a wonderful place to encounter the work of owner and artist Annabel Langrish.
Annabel's compelling designs focus on the diversity of the wildlife that surrounds us here on the Sheep's Head peninsula. The gallery's gardens – designed with an artist's eye – are a great spot to enjoy the gorgeous, wholesome local food you'll find in the gallery's café.
While the Ahakista gallery is closed in the winter, you can see and buy Annabel's work online, and in her Schull and Kinsale stores.
[Open March to early September]


6. Sheep's Head Producers' Market and Shop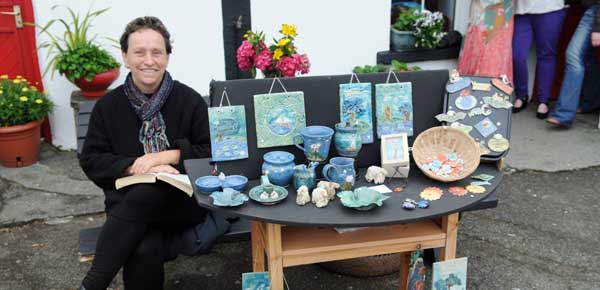 In Kilcrohane village, the producers' shop brings together the work of over 80 local craft and food makers from across the peninsula. It's a treasure trove of items from ceramics, jewellery and driftwood creations, to paintings, photography, knitwear and tweed hats.
The shop – housed in the peninsula's old creamery building – is staffed by the producers themselves, and gives you a wonderful chance to talk to the creative people who are inspired by living the Sheep's Head Way.
[Open year-round]


7. Danny Smith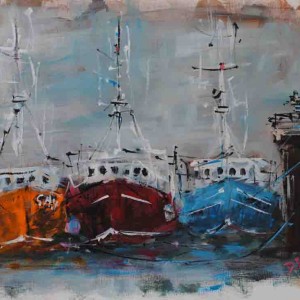 Call next door to The Old Creamery Café & Restaurant, and you'll immediately be drawn in to the work of Danny Smith whose intimate paintings of rural life adorn the walls here.
Danny spent time working as a postman on the Sheep's Head peninsula, and his close acquaintance with the rhythms of life here, as well as his artistic skill, shape a body of work that is helping to build his reputation far beyond the peninsula's shores.
[By appointment]


8. White House Gallery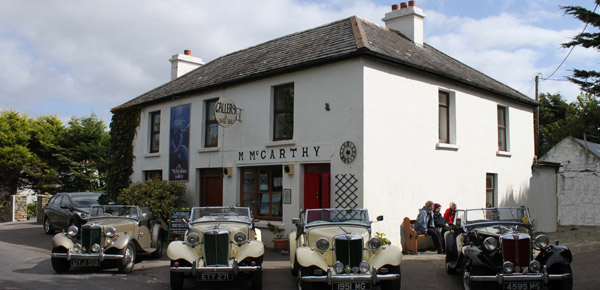 Journey down the peninsula, and you won't be able to miss The White House Gallery outside Kilcrohane. It's an atmospheric gallery space where you'll find the art of Corina Thornton, inspired by Celtic mythology and the spirit of the wild West Cork landscape. The White House Gallery serves legendary coffee, scones, and conversation in a setting that often reminds people of Paris in the 1950s!
[Open year-round]


9. Sheep's Head Yarns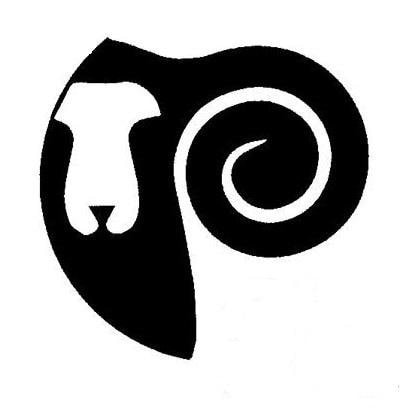 The Alice West Centre at the Black Gate outside Kilcrohane was bequeathed to the community by the artist Alice West who spent many years creating and teaching traditional craft skills on the Sheep's Head peninsula. This lovely spot is now the base for the team behind Sheep's Head Yarns, who ran the Sheep's Head Yarn Festival in May, and are now running a range of craft workshops across the summer.
[Shop open year-round from mid-March 2016]


10. Felt-Making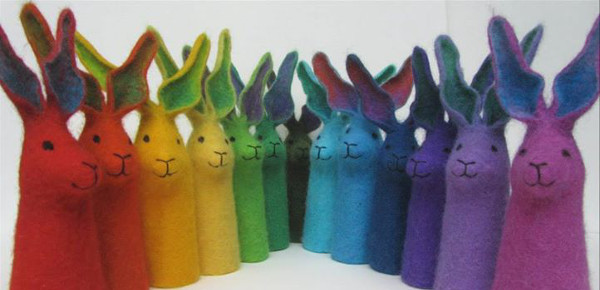 Where better to learn the art of felt-making than on the Sheep's Head peninsula in the Chinese Year of the Sheep? Christina Jasmin Roser is an artist who works with felt to create tactile, vibrant objects in a range of forms.
Book yourself onto one of Christina's feltmaking workshops, and she'll share with you the skills and challenges involved in felt-making in her workshop located alongside the Sheep's Head Way walking route.
[Open year-round]


11. Stone-Carving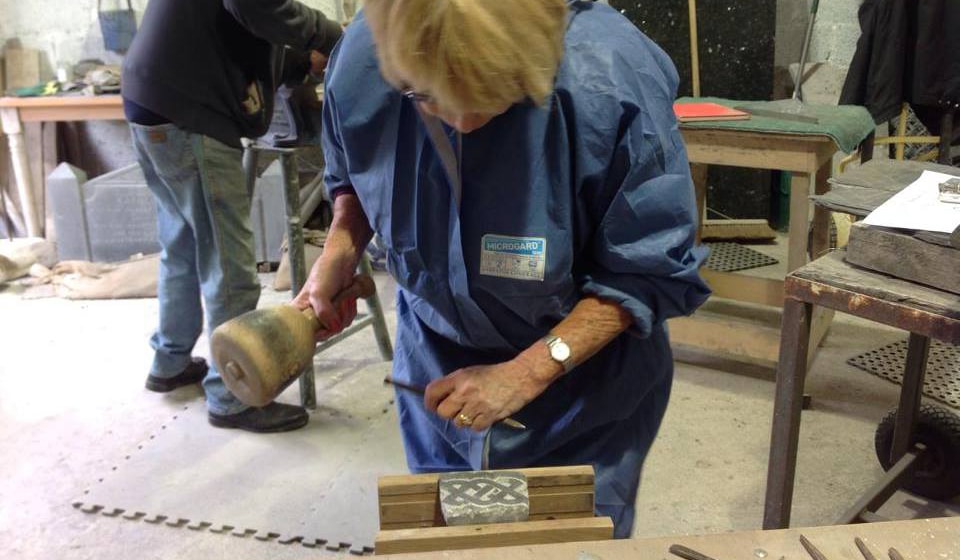 Victor Daly carves letters, and create stunning sculptures using only stone and the traditional skills passed down to him from the generations of stone-carvers before him. Victor's letter-cutting and stone-carving workshops attract visitors from across the world.
[Open year-round]


Find a great place to stay for your visit, and plan your activities here at https://livingthesheepsheadway.com!

Book a Bespoke 'Meet the Makers' Tour Get in touch and we'll help you plan a bespoke craft tour for your visit to West Cork. It's a wonderful way to meet some of Ireland's most creative craftspeople! Email Siobhán at

[email protected]

or call 086 303 0991 to find out more.